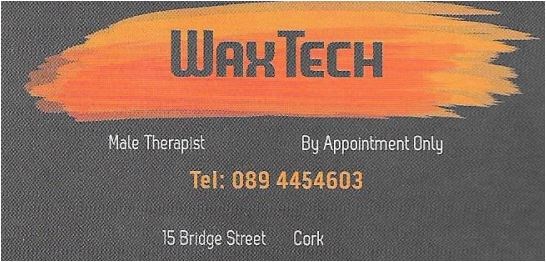 William Anthony proprietor of WaxTech is an experienced male grooming specialist in Cork City and provides a complete man grooming services from his male grooming salon in Cork.
As a Cork male grooming expert, William Anthony is a fully qualified ITEC Male waxing therapist and a member of AIT (Associated Irish Therapists) and of ITEC the (International Therapy Examination Council)
WaxTech Cork male waxing clinic is ideal located to all areas of Cork City and Cork county including; Ballincollig, Ballineen, Ballingeary, Ballinhassig, Ballycotton, Bandon, Banteer, Bantry, Béal na Bláth, Belgooly, Buttevant, Carrigaline, Charleville, Crosshaven, Dunmanway, Glanmire, Innishannon, Kanturk, Midleton, Millstreet, Mitchelstown, Passage West, Rathcormac, Riverstick, Ringaskiddy, Schull, Shanagarry, Skibbereen and Whiddy
Male body waxing is a speciality of WaxTech's male body waxing salon in Cork.
Having trained in Galligan's Beauty College in Grafton Street in Dublin William Anthony can advise on all type of male body waxing and you choose what type of body waxing is best suited to you.
The male waxing services available from WaxTech's male Cork waxing clinic include; Man scaping, Eyebrows, Abdomen waxing, Shoulder waxing, Back waxing, Chest waxing, Leg waxing, Arm waxing, Speedo Line, Back Sack & Crack and Pubic hair front & back.
Affiliated to Marina's Beauty Salon in Rathgar WaxTech's Cork male grooming salon specialise in providing waxing suitable to male participants in all type sporting activities.
Sportsmen requiring male waxing will experience a welcoming and relaxing atmosphere and the best male hair removal treatments in William Anthony's male cork hair removal salon.
The male hair removal treatments available in WaxTech's male body hair removal clinic in Cork is ideal for the following sports activities including, Body building, Swimming, Cycling, Martial arts, Athletics and Gymnasts.
As a qualified male grooming specialises in Cork William Anthony in WaxTech is available to answer any questions on male waxing or male grooming.
These are some of the questions William is often asked on male waxing; Is waxing painful, Waxing after care, After waxing how long for signs to disappear, How much does waxing cost, How long for hair to grown back after waxing and how long before holiday should I Wax.
Body-Hair Trimming is available at William Anthony's WaxTech men's grooming salon in Cork.
This is ideal male hair removal for men who want to lessen the appearance of their hair but without removing hair completely.
Wet-Shaving forms part of the male hair removal services provided at Anthony's Cork men's grooming clinic.
Wet shaving is an ideal for pre-laser treatment and also for men who prefer not to wax but require a smooth appearance.
All major cards accepted for payment
For more infromation on Male Body Waxing Phone William Anthony on 089 4454 603