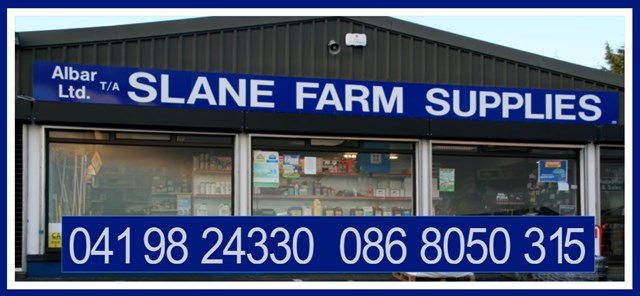 An established farm supply retailer in Meath, Slane Farm Supplies have decades of experience in providing Agriculture products including animal health and farm hardware supplies.
Slane Farm Supplies stock the highest quality generic and branded animal health remedies for farm and domestic animals in Meath.
Services provided by the farm supply shop in Meath include; farming equipment, agricultural supplies, agricultural equipment, animal medicines, animal welfare supplies, dairy hygiene supplies, fencing supplies, farm clothing, farm footwear, animal health remedies, domestic pet remedies, farming chemical supplies, pest-control, garden products and dairy hygiene products.
Situated at Collon Road, Slane, County Meath, Slane Farm Supplies are extremely knowledgeable in providing agricultural supplies for all type of farm livestock.
Fully aware that the health of agricultural livestock is essential, Slane Farm Supply stock a top quality range of animal feed, livestock doses, animal remedies and animal supplies for Sheep, Cattle, Pigs and Horses.
The Farm Supply Shop in Meath stock a wide range of livestock remedies including, Animal Feed, Licks Supplements, Wormers, Meal, Minerals buckets, Sheep Dips, Pour ons for cattle. Vaccines, Pour ons for Sheep, Foot bath solutions, Copper sulphate, Zinc sulphates, Formalin Septiccare. Calf Milk and Lamb milk..
Slane's Farm Supplies Store in Meath stock all hardware supplies for maintaining a property or small farm in Slane at affordable prices.
A wide variety of farming hardware products, smallholding supplies and farm tools are stocked by Slane Farm Supplies in Meath.
The stock in the Slane Farm Supplies hardware section includes; Electric fences, Posts, Wire, Feeders, Troughs, Footbaths, Gates, Gate hangers, Fencing tools, Cattle Drinkers, Calf feeders, Lamb feeders, Creep feeders, water hydrodare piping, Plasson Fittings, Electrical fittings, Bale wrap, Silage wrap, Bailing twine, Silage covers, Wheel barrows, Meal bins and Salt water softener.
Slane Farm Supplies in Meath stock a wide range of dairy hygiene products for dairy farms in Slane.
The dairy hygiene section of Slane Farm Supplies include, Disinfectant, Hot and cold washes, Milk Socks, Descales, Teat dips, Lime. Shavings
As an agricultural supplier in Meath the Garden products available are wide ranging and all top brands are stocked.
With their many years' experience in garden supplies in Meath the staff will be able to advise on what garden products will best suite your garden requirement.
The garden stock in this Meath Agriculture Supplies company include, Herbicides .Weed killer, Round up, Gallup, Lupo, D-50, Grazon, Weed and Feed, Sulphate of Iron, Compost, Peat moss, Knapsack sprayers.
The clothing section in Meath Agriculture Supplies Company stocks all top quality Agri clothing at very competitive prices.
Farm Clothing and Farm footwear in stock in this Meath agri store include;Farming Footwear, Farm Clothing., Wellingtons, Boots, Milking gowns, Wet suites, Anoraks, Body warmers and Gloves,
Fuels and Oil is provided by Slane Farm Supplies they stock a complete range farm products for all your farming needs.
Fuel supplies and Oil supplies at Slane's Farm Supplies include: coal briquettes, bottled gas, discount coal prices on large orders, sand, cement, oils, gem oils, multipurpose oils, hydraulic oil, gear oil, saw oil, coolant, car batteries and tractor batteries.
For all your Farm Supplies requirements in Slane & Meath, call 041 98 24330041 98 24330