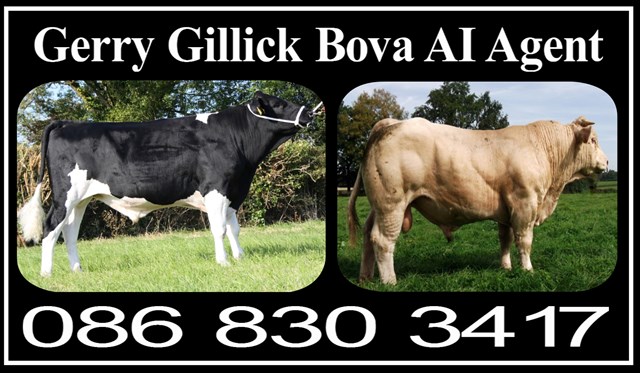 Gerry Gillick is a Bova AI agent in Cavan and supplies Ai straws at very competitive prices.
Gerry stocks a wide range of proven high quality artificial insemination straws (AI Straws) for the dairy and beef sector.
The AI straws available from Gerry include; Beef AI straws, Dairy AI straws and Easy calving AI straws.
As a Bova AI agent, Gerry can supply beef straws for all of the top beef sires in Bova.
Special offers on beef AI straws are available and a selection of beef sires AI straws can be mixed to individual requirements.
The beef AI straws available from Gerry Gillick's Cavan AI service includes AI straws for all beef breeds including; Belgian Blue, Aberdeen Angus. Charolais, Limousin, Simmental, Shorthorn and Hereford.
All Bova dairy AI strays for top dairy sires are available from Gerry Gillick.
With the lifting of milk quotes the importance of using the best dairy herd AI bulls is of the most utmost importance and Gerry can advise what is the best AI bull to suite your dairy herd requirements.
The dairy AI straws available from Gerry Gillick's Cavan AI service include straws for all dairy breeds including; Holstein, British Friesian and Holstein Friesian EBI
For Further information call Gerry on 086 8303417