Fire Protection Ireland are fire safety experts, selling fire prevention tools to both the public and private sector in order to prevent the spread of fire. The Cavan based fire protection company sells affordable fire prevention equipment. Fire Protection Ireland only employs fully qualified fire safety professionals with the relevant fire safety qualifications.
Fire Protection Ireland are based in Cavan but the fire prevention experts also work in the surrounding areas including fire protection Louth, fire protection Meath, fire protection Monaghan, fire protection Dublin etc. Ireland's leading Fire Protection service supply a comprehensive range of fire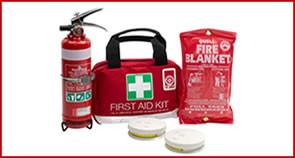 safety equipment including fire extinguishers, fire blankets, escape ladders, first aid kits, smoke alarms, fire safety signs, fire detection systems, fire suppression systems, carbon monoxide protection, gas protection etc.
Fire Protection Ireland in Cavan provides their fire protection servicing in accordance with the relative European/Irish fire safety Standards and they also provide certified fire prevention staff training in a number of fire safety courses.
The courses that Fire Protection Ireland provides are first aid courses, fire safety courses, fire prevention courses etc. Fire Protection Ireland design fire alarms, commission fire alarms, install fire alarms, install fire detection systems, install smoke alarms, install fire extinguishers, install hose reels, install fire suppression systems, install safety lights, install carbon monoxide protection, install gas protection, furniture safeguard spray etc.
Ireland's Fire Protection company in Cavan supply emergency lighting for both domestic and commercial properties in the event of a fire. Fire Protection Ireland guarantee value through quality fire safety solutions and the fire safety experts have a great reputation for providing a high quality fire protection service to their customers.
Fire Protection Ireland sells emergency lighting, light up exit signs, fire safety lighting etc. to their customers, so that in the event of a fire they can be guaranteed to stay as safe as possible.