Welcome, my name is André. I aim to help you reach your goals and make the breakthrough to help you quit the expensive and highly addictive habit of smoking. I was trained in 2006 by Acupuncture Detox Ireland, and my qualifications cover both counselling and addiction studies. I have experience in dealing with a range of conditions, working with people with addictions, with groups in the workplace and at retreats, and with clients of Holistic Cocoon.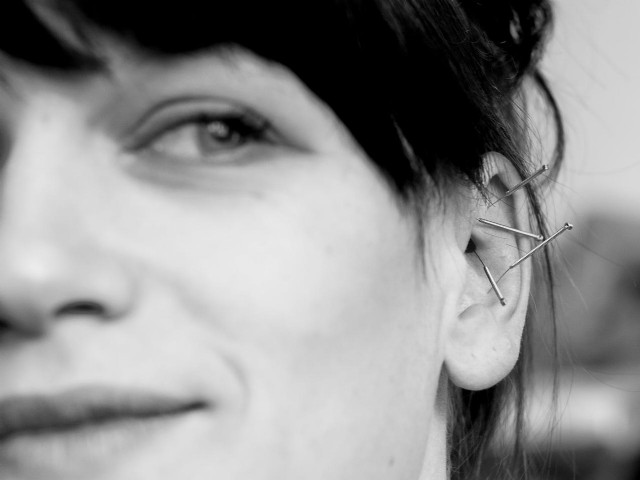 Now based in the heart of Dublin , I offer a confidential Stop Smoking Programme that will help you to achieve your end goal - to quit smoking for good. I can help you with either your own personal smoking habit, or the smoking addictions of a loved one. Are you looking to quit smoking now? Are you ready to make a New Year's resolution to quit smoking for good? Maybe you want to offer help to someone close to you who wants to stop smoking?
What is auricular acupuncture and how does it help you to quit and stop smoking? Acupuncture affects the body's central nervous system and key parts of the brain involved in stress response. Many scientists theorise that it dulls the pleasure of drugs, including the addictive affects of nicotine, by reducing dopamine levels. Auricular acupuncture has also been shown to help reduce the withdrawal symptoms associated with quitting smoking and associated cravings for nicotine and cigarettes.
For each session and treatment to aid your goal to quit smoking for good, sterilised needles are painlessly applied to five points in each ear for 30-40 minutes. The points correspond to areas that affect the parasympathetic nervous system, which increases relaxation, and stimulate activity in the organs and the body's self-regulating systems to expel toxins naturally.
Stop Smoking in the Workplace: Available to businesses in Dublin. AVAcudetox offers group therapy sessions for Corporate and Businesses. Consultations and treatments offered cover a number of specialist areas including helping workers to stop smoking and quit smoking for good.
For further information on AVAcudetox's Stop Smoking Programme and to receive a quotation, contact directly today either by telephone or email.
Consultation and treatments for all types of addictions, including quitting smoking last approx 1 hour. The first consultation includes a full analysis of the condition
The 5 WEEK STOP SMOKING PACKAGE includes:
Consultation
Five weekly needle treatments
Five weekly press needles (see below for details)
Soundwave therapy sessions – Alpha and theta waves that balance the right and left brain hemispheres
Press Needles – These can be used to treat a number of symptoms and addictions. The major benefit is that the effect of the treatment lasts throughout the week until the next session. Acupuncture treatments and press needles can help with:
Stop Smoking – Cravings for nicotine and other drugs reduced
Weight Loss – Cravings for food, alcohol, eating disorders eased
Aches, Pains – General aches and pains can be relieved during the process
Depression, Stress, Anxiety, and Insomnia – Helps to still the mind, relieve tension and regulate sleep patterns
For further details of AVAcudetox's extremely competitive 5 Week Stop Smoking Package, contact us directly today.
Not looking to quit smoking? Maybe you have another habit or condition that you would like help with? To find out more, just contact us in confidence to arrange a consultation. Auricular acupuncture can also reduce aches, pains, cravings, and is beneficial in dealing with eating disorders, depression, stress (including Post-Traumatic Stress Disorder), anxiety, and insomnia.
Employees and private individuals that suffer from any of these conditions are more than welcome to avail of the auricular acupuncture services we offer. Please note – There is a 24 hour cancellation policy. Pregnant women and those wishing to donate blood in the next six months are advised not to undertake treatments.
Want to know more? Just contact us directly and we can help with any questions on treatments offered.
***YOGAPUNCTURE WORKSHOPS***
Sunday 17th Novenber 2013
6 - 8pm @ Anahata, 8 Dawson Street, Dublin 2
This is a specially designed 2 hour workshop with 90 minutes of yoga and 30 minutes of auricular acupuncture. It is the only class of its kind in the country!
The yoga section incorporates gentle yin yoga to release blocked energy in the body's connective tissue, and a flowing, invigorating sequence to warm the body and stimulate the flow of energy.
The sequence of postures has been designed to engage all the muscle groups, improve breathing patterns, massage internal organs, and balance all the major systems in the body. They include inversions (which help drain accumulated lymph fluid from the legs and re-circulate it through the body strengthening the immune system), twists and folds (to stimulate digestion and facilitate the elimination of impurities and waste products from the body).
The yoga section ends with a 30 minute final relaxation (Shavasana). Under the warm glow of candlelight you will enjoy the benefits of auricular acupuncture and the soothing sounds of alpha wave music - designed to move your mind into a regenerative state of total relaxation.
Combining auricular acupuncture with the yoga practice allows for your mind and body to achieve a whole new balance. Make sure to book your early as places are limited.
After the workshop stay and enjoy tea and chat. Yogapuncture is wonderful way to end the week and prepare the mind and body for the next!
Cost: €30 (special introductory offer)
To find out more, contact Andre Venchard Acudetox today on 085 784 1369
Consultation and treatments are available for a number of bad habits, addictions and conditions including Quitting Smoking, Anxiety, Insomnia, Depression, Stress (incl. PTSD) and Eating Disorders. Contact directly to find out more about our extremely competitive packages available. Additionally, we can also offer consultations and treatments at home. Home visits and consultations to help you Quit Smoking, and for all other treatments including help with Anxiety, Insomnia, Depression, Stress and Eating Disorders are available in Dublin, Cork, Cork City and all surrounding towns near to and including, Kinsale, Belgooly, Riverstick, Bandon, Innishannon, Five Mile, Ballinspittle, Douglas.