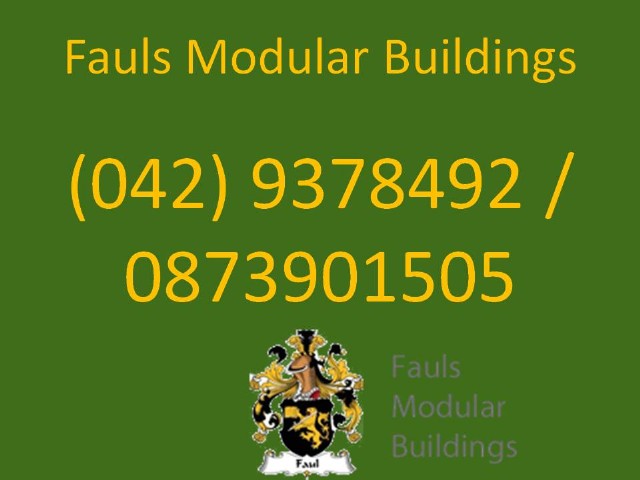 Fauls Modular Buildings Dublin are experts in modular type extensions, the future of extending homes professionally and at a fraction of the cost of traditional home extensions, installed in just a day with no mess or no fuss, delivering any where in Ireland and the UK.
The future in home extensions, the experts at Fauls Modular Buildings can build an extension on their factory floor and on completion install it in just one day at a fraction of the cost of traditional extensions, a very cost effective way to extend a home, modular buildings are of steel construction and are as stable as any permanent structure, the only main difference is that modular buildings can be removed in a matter of hours to be either sold on or placed in a different location, services include custom built extensions, garage extension, conservatory extension, porche extension, sunroom extension, playroom extension, study exension, office extension, simple extensions, affordable renovations, based in Dublin and work throughout Ireland, UK, Co, Dublin, Dublin city, Louth, Meath, Cavan, Monaghan, and surrounding areas.
Modular garages are a very popular addition to the home, the modules can be constructed to suit the needs and budget of the customer, House Garages Dublin employ fully qualified builders to erect the modules fast and efficiently.
House Garages Dublin provide a professional garage building service, modular garages will keep all vehicles safe and protected, the modular garage will arrive fully constructed to customers specifications and ready to be fitted by professional builders, using a crane to lift the new garage into any position and quickly removed again in years to come if necessary, separate garage, garage extension, modular garage, cost effective garage, quick garage installation, low maintenance garage, double garage, quote for garage extension,
Fauls modular buildings Dublin provide a professional service in supplying and fitting porches to the home, modular porches will blend into the exising premises with a seamless finish, all work carried out on time and on budget.
Porches are an energy saver for the home, quick and easy to install Fauls modular Buildings will blend the new porch to match existing interiors and exteriors, completed on the factory floor and lifted into position by a crane, the portch can be installed in just 1 day with no mess or inconvienience, all work is finished on budget and on time, modular porches, porch extension, quick porch extension, modern porches, traditional porches, large porch, small porch, free porch quotation.
Sunrooms are a valuable additional to any home, House Garages Dublin specialise in providing top quality beautiful modular sunrooms at a fraction of the cost, blending in perfectly to the existing home, quick and easy to install with minimal disruption to customers.
House Garages Dublin provide an excellent service of building and installing stunning sunrooms, this will add value to the property and give a lot of extra space, modular sunrooms can be built to customer specifications and can be installed quickly and efficiently, large sunroom extensions, small sunroom extensions, all weather sunrooms, easy to maintain sunrooms, energy efficient sunrooms, budget sunrooms, traditional sunrooms, modern sunrooms.
The experts at Fauls Modular Buildings Dublin are always available to answer any questions on all aspects of modular products.
Fauls Modular Buildings Dublin are available to give advice or answer any questions

on their products, including how long does delivery take? Do I need planning permission? where do you deliver to? who is the best manufacturer of modular buildings? will my sunroom be insulated? What kind of finishes can I choose from? are modular buildings manufactured to building control standards?
For Further information please call (042) 9378492 / 0873901505 Ireland or 02087616350 / 00447811792516 UK