KUNG FU DUBLIN

DUBLIN KUNG FU teaches the ancient art of shaolin kung fu. the ancient disipline requires diligence and practice to attain a mastery of this ancient art .Dublin Kung Fu uses the lung ying academy methods which is the only club in Ireland teaching orignal shaolin kung fu methods Dublin Kung Fu club has only just started here in kings inn street ,the source club is a long time established in gilltown slane co meath teaching the shaolin kung fu
Sifu Joe Costello will guide both beginners and more advanced students along this ancient and fullfilling path. learning the many lessons and teachings will give all students a greater understanding of this most ancient of arts.everyone is welcome to come and join,all ages are catered for and there is a classes to suit every level and knowledge
***** FOR A FREE TRIAL OF ANY OF OUR CLASSES JUST SAY YOU'VE SEEN THIS PAGE *****
Dublin Kung Fu club will not only be teaching kung fu .but will also have the shaolin tai chi, and as this club grows we wil be introducing medatation classes using all of the shaolin teachings keep your eyes on our page for any futher information and when we will be launching all of our programs
Timetables
mon Tai Chi 10am -11am
Tue kids class kung fu 5 15 _6 45 adults kung fu 7 00_8 30 and 8 30_10 00
Wed Medatation 10AM -11 30am
Thurs kids class kung fu 5 15 _6 45 adults kung fu 7 00_8 30 and 8 30_10 00
Fri Tai Chi 10AM-11AM
Sat kids Kung Fu11 00 am to 12 adults Kung Fu12 00 to 1 30
Sun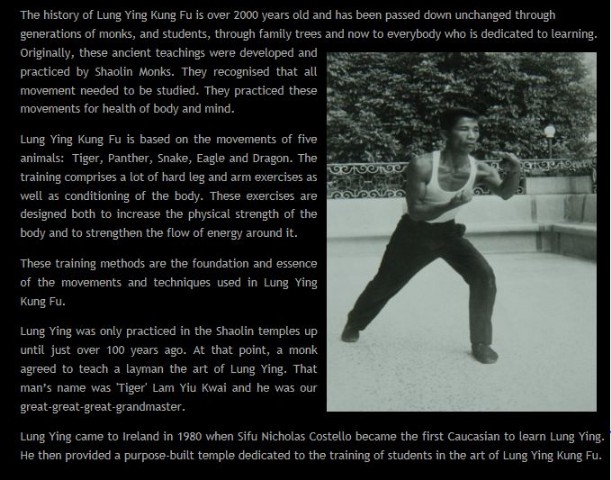 Call in to our center and have a look around. In dealing with the popular concept of Kung Fu, it should be explained that Lung Ying Kung Fu is not just a martial art. It encompasses an effective and powerful method of self defence and a code of values essential for life. Added benefits include improved health, increased fitness and flexibility.
Lung Ying Kung Fu requires the practitioner to have physical and mental self-discipline unequalled in modern-day pursuits. It is an all-encompassing concept that defines Lung Ying Kung Fu. It is a misconception that it is "just" a method of fighting. The desire to learn, the will to discipline oneself, and devotion to practice is what elevates Lung Ying above other martial systems.
Lung Ying is one of the first Kung Fu styles. It is based on the movements of five animals: Tiger, Panther, Snake, Eagle and Dragon. The leg movements are based on that of the Dragon (lizard) so a lot of zigzag movements are used in the style. The training comprises a lot of difficult and exhausting leg and arm exercises as well as conditioning the body.
These exercises are designed both to increase the physical strength of the body and to strengthen the flow of energy around it. They are the foundation and essence of the movements and techniques used in Lung Ying.
.