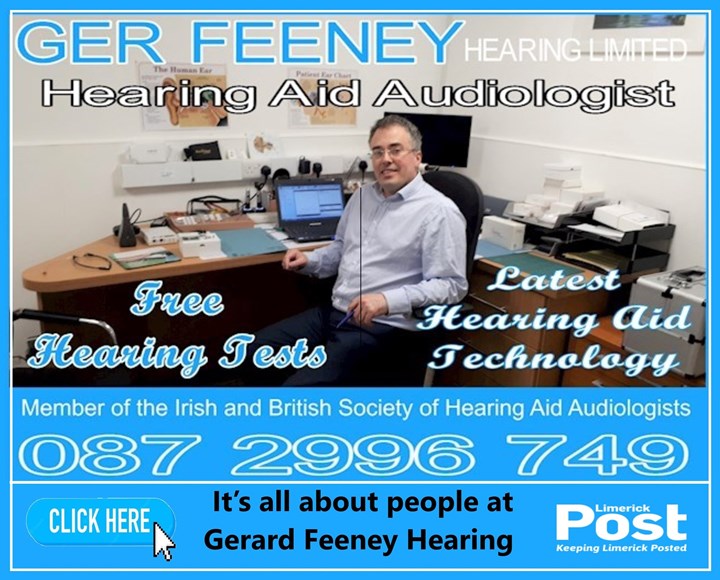 Gerard Feeney is an independent hearing aid audiologist in Limerick, who specialises in providing hearing tests and hearing aids in Limerick City and throughout County Limerick.
As a fully qualified audiologist in Limerick, Gerard Feeney MISHAA (Member of the Irish Society of Hearing Aid Audiologists) has over 20 years experience in the hearing aid industry, is VAT registered, fully insured and specialises in providing custom made hearing aids in his Limerick Hearing Clinic.
The hearing aid services in Limerick provided by Gerard Feeney include; hearing tests, hearing aids and answering all questions on hearing problems.
Performing hearing tests in Limerick is a speciality of Gerard Feeney's hearing centre.
Using state of the art audiology equipment, Gerard provides complementary, comprehensive hearing tests, hearing levels are accurately assessed, ear abnormalities can be identified, advice on solutions to hearing problems is available and free consultations on hearing difficulties can be arranged.
The hearing tests in Limerick available from Gerard Feeney are beneficial for people with; hearing impairments, hard of hearing, hearing loss, hearing difficulties, hearing problems and include; ear examinations, sound pitch testing, vibration hearing test, hearing loss calculations and hearing loss solutions.
Hearing aids in Limerick are available in Gerard Feeney's Limerick Hearing Clinic.
Familiar with the newest hearing aid technologies, Gerard recommends what hearing aids are best suited to individual hearing problems, hearing aids can be controlled and customised by smart phone apps, free aftercare is provided on all hearing aids purchased and all hearing aids are professionally fitted.
The hearing aids in Limerick available from Gerard Feeney include; digital hearing aids, invisible hearing aids, behind the ear hearing aids, invisible in the canal hearing aids, completely in the canal hearing aids, in the canal hearing aids, in the ears hearing aids, receiver in the canal hearing aids, affordable hearing aids, budget hearing aids, Starkey hearing aids, Siemens hearing aids, Pure Tone hearing aids, GN Resound hearing aids and all leading brands of hearing aids.
Questions on hearing aids can be addressed by Limerick audiologist Gerard Feeney.
Familiar with common causes of hearing loss and hearing loss solutions, Gerard can advise on benefit scheme eligibility for all clients, answers to all hearing difficulty questions are available and free quotations on all hearing aids are provided.
The questions Gerard Feeney, Limerick audiologist is often asked include; How are hearing tests conducted? How much does a hearing test cost? How often should hearing tests be carried out? How long does a hearing test take? Are hearing aids made to measure? How much do hearing aids cost? How long does it take to have hearing aids fitted? Are hearing aid repairs available? Do I qualify for the Treatment Benefit Scheme run by the Department of Social Protection? How often should hearing aids be replaced?
For more information on hearing aids in Limerick phone - 087 299 6749