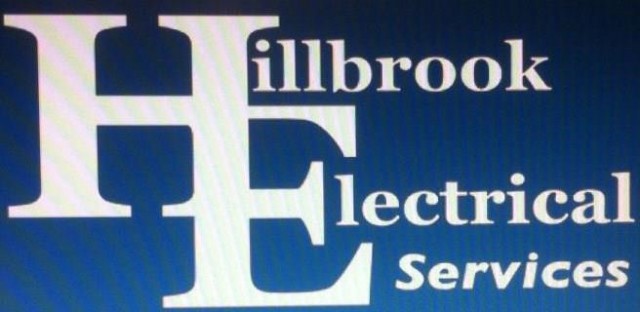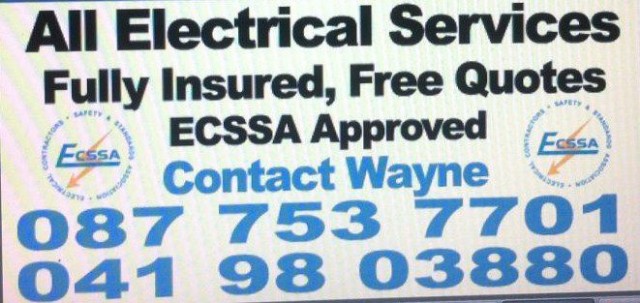 HILLBROOK ELECTRICAL SERVICES Brookville Park, Drogheda, Co. Louth.
Our aim is to provide all our customers with the best electrical service in complete new insulations, Rewiring and Repairs in the Leinster area. We are fully qualified in all aspects of the electrical industry and are ECSSA approved. We are fully insured with Public Liability for working on all areas including Domestic, Industrial, and the Commercial and Agricultural sectors.
Domestic Electrical From new installations to the simplicity of repairing a trip switch
We have a vast experience in the domestic area as electricians, ranging from complete new installations to the simplicity of repairing a trip switch. We undertake new installations on not only the electrical requirements but we can also install all your other Electronic Equipment including CCTV Monitoring, Recording, Digital and Phone Systems if required.
Industrial Electrician
WE install, inspect and test wiring systems and components in all types of buildings and machinery.
Our typically work in the construction, engineering and manufacturing industries includes
Panel building – putting together control panels that operate a building's lighting, heating and ventilation systems
Repair and rewind – fixing faults in machinery, for example replacing the motors in a lift system
Instrumentation – installing and maintaining manufacturing systems that measure the efficiency of a production line
Maintenance – testing and servicing electromechanical equipment found in manufacturing and construction.
Commercial Services Electrician
We provide electrical maintenance service including the structured telecommunications systems.
We have many years experience in contracting, installation, project design, maintenance and telecommunications.
Our work is accurate, safe, efficient and cost effective and we have considerable experience in the electrical maintenance, installation, fault finding and design in all aspects of the commercial trade including backup generation, UPS systems and other considerations pertinent to maintaining high reliability facilities.
Agricultural industry Electrician .
We have a complete understanding of the Agricultural Industrys Electrician requirements
We have both rewired and installed new systems whilst repairing others. We are familiar with all types of electrical feeding systems and have worked on Milking Parlours – Dairies Refrigerated Stores--Poultry Sheds—Nurseries-- Garden Centres--Farm Buildings--Barns and Stables
No matter what you're electrical requirements are
Electrical Heating and Upgrade==Full House Wire==Extensions==Extra Sockets, Lights, Fittings==Fuse Board Upgrade== Showers Wired and Plumbed==Outdoor Sockets and Lights==Garden Sheds Wired==Replacement of existing Sockets, Light Switches, Cooker Switches==Fitting of New Lights, Chandeliers==Electric Heaters, Fans==Main Smoke Alarm Fitted==Cabinet lights Spot Lights==Security Lighting==Sockets moved
WAYNE IS THE MAN TO CALL (041) 980-3880 (087) 753-7701