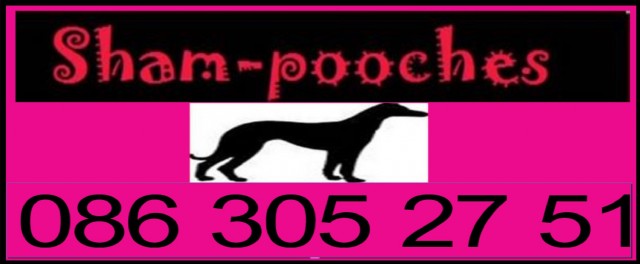 Orla at Sham-pooches dog grooming provides a professional and caring Dog Grooming and dog health check service from her custom built dog grooming salon based in Termonfeckin.
All shape and size of dog is expertly groomed by the professionals at Sham-pooches Termonfeckin.
Sham-pooches Termonfeckin offer an excellent dog grooming and dog health check service from their purpose build dog grooming salon in Termonfeckin village. All breed of dog is carefully groomed in a relaxed and caring environment at Sham-pooches Termonfeckin, services include, grooming dogs, medical checks on dogs, caring for puppies, dog groomers Termonfeckin, caring for dogs, healthy dogs, dog grooming salon. Based in Termonfeckin, Sham-pooches have clients coming from all over Louth, Termonfeckin, Drogheda and surrounding areas.
With many years dog grooming experience, Dog Grooming Termonfeckin have gained the reputation of being the best dog groomers in the area. Custom made Professional dog grooming service at affordable prices from Dog Grooming Termonfeckin.
Great care is taken to ensure all dogs being groomed are relaxed and feel safe at all times at Dog Grooming Termonfeckin.
Highly experienced dog groomers Orla and her team at Dog Grooming Termonfeckin have a large and loyal customer base and an excellent reputation of ensuring all dogs are relaxed and enjoy being groomed without the need to sedate or tie up any dog. Dog Grooming Termonfeckin are the best dog groomers in the area, services include, shampooing dogs, bathing dogs, brushing dogs, general dog grooming, hair clipping, blow drying dogs, ear cleansing, anal glands cleansing.
Sham-pooches Dog Grooming Termonfeckin are expert in all aspects of puppy grooming and puppy health checks, and treat all puppies with utmost care.
All puppies get to spend the day at Sham-pooches dog groomers before any grooming to ensure their puppy grooming and puppy health check experience is enjoyable on the next visit.
Sham-pooches dog grooming Termonfeckin pride themselves in being experts in all areas of health checks and grooming puppies, all puppies will spend the day with the team to get used to the noise of the driers and to get used to the dog grooming salon. Special puppy shampoo is used when bathing puppies at all times, ensuring they are happy and relaxed at Sham-pooches. Affordable puppy grooming in a clean comfortable environment at Sham-pooches Termonfeckin, services include, grooming puppies, bathing puppies, cleaning puppies, healthy puppies, cleaning puppies ears.
Dog Grooming Termonfeckin provide an expert basic health check for all breed of dogs and puppies at very affordable prices.
Regular general health checks from Dog Groomers Termonfeckin is very important to ensure all loved pets are happy and healthy.
All Dog Health checks carried out by Dog Grooming Termonfeckin are performed with care and will help identify any potential health risks for the future. Dog Grooming Termonfeckin provide an excellent and affordable health check service for all breed of dog and puppies, services include, medical checks for dogs, health care for dogs, ear problems in dogs, eye problems, checking dogs anal glands, skin irritation in dogs, lice in dogs, parasites and dogs, swelling in dogs, pet health.
Cat Grooming is provided by Orla's grooming in County Louth.
Orla is very experienced in grooming all type of cats and has all latest cat grooming equipment in her cat grooming salon in Termonfeckin.
Orla's Cat Grooming is ideal located to any of the following areas including; Drogheda, Laytown, Bettystown, Stamullen, Ardee, Dundalk and Ardee.
For Further information please call 086 305 2751