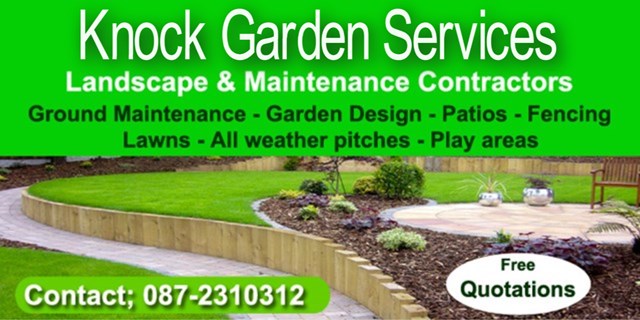 Knock Garden Services are Mayo landscaping contractors who provide a commercial landscaping and domestic garden maintenance service throughout County Mayo.
As fully insured and established garden landscaping contractor in Mayo, Knock Garden Services provide a wide range of professional gardening services including garden design at an affordable cost.
The Landscaping and Gardening services provided by Knock Garden Services are available in County Mayo including the following areas: Knock, Claremorris, Ballindine, Irishtown, Kilkelly, Castlebar, Ballyhaunis, Ballina, Aghamore, Kiltimagh, Balla, Charlestown, Bohola, Kilmovee, Swinford and Castlerea,
Garden lawn maintenance to once-off garden clean ups and lawn makeovers is a specialty of Mayo Landscaping garden and maintenance service contractor Knock Garden Services.
Fully equipped with modern landscaping equipment and garden machinery this Mayo Landscaping contractor clears and maintain overgrown lawns, neglected areas of gardens and commercial open green spaces.
Knock Garden Services provide a wide range of residential and commercial lawn maintenance services throughout Mayo including; New Lawns, Turf lawns, Lawn rolling, Lawn Treatments, Moss control, Lawn clean ups, Soil preparation, Lawn rolling, Lawn site grading, Pre-turf fertilization, Turf watering roll-out, Lawn planting, Lawn laid rockery's, Play areas and Ground maintenance.
The gardeners at Mayo Knock Garden Services are highly trained and experienced in all aspects of Shrub,Tree and Hedge care.
Providing professional advice on species of trees and shrubs for garden spaces this Mayo landscaping contractor design and maintain shrub areas in gardens and open spaces on residential and commercial premises.
The shrub and hedge maintenance and planting services provided by Mayo Landscaping and Garden contractors in Knock include; Shrub planting, Shrub planting designs, Shrub pruning, Shrub maintenance, Shrub spraying, Hedge Planting, Hedge maintenance, Hedge trimming, Tree planting, Tree felling, Tree pruning and Tree maintenance.
As a commercial Mayo landscaping contractor, Knock Garden Services provide a Patio laying, Paving and Kerbing service in County Mayo.
Experts in designing and laying Patios, Knock Garden Services provide a free quotation for all commercial and residential patio, paving and kerbing projects in County Mayo.
Knock Garden Services in County Mayo specialize in patio, paving and kerbing projects including: New build patios, Patio Repairs, Paving Installation, Kerbing installations, Decking Construction, Decking Maintenance, Driveways, Block Paving, Flagging, Natural stone paving, Indian sand-stone, Granite, Limestone, Brickwork and all patio construction projects.
Suppling and installing decorative garden fencing and security fencing in a wide range of styles in Mayo is a speciality of Knock Garden Services.
With many years experience in supplying and installing fencing in County Mayo, Knock Garden Services have the expertise in building and installing fencing suitable for large or small spaces.
Knock Garden Services supply and erect the following type of fencing throughout Mayo including; Wooden Fencing, Trellis fencing, Post and Rail Fencing, Wood Panel Fencing, Picket fencing, Security fencing, Steel fencing, Agricultural fencing, Livestock fences, Cattle fences, Dog run fences, Mesh fencing, Wire fencing, Decorative fencing, Wildlife fences, Sport areas fencing and Park fencing.
For More Contact Knock Garden Services : 087-2310312.