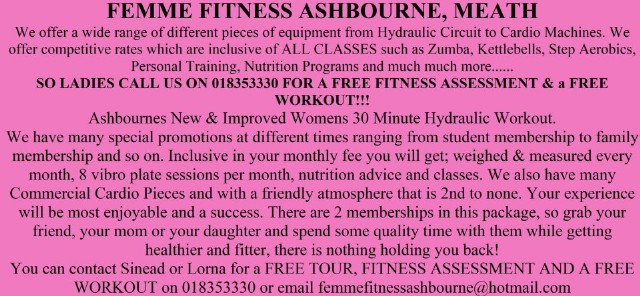 Femme Fitness Ashbourne is one of Ashbournes newest fitness centres, located in Baldara Ct, Ashbourne County Meath Femme Fitness is providing a fitness and aerobics centre exclusively to females. Femme Fitness provides the following workouts,
Women's 30 Minute Hydraulic Workout Zumba classes, Kettlebells workouts, Step Aerobics, Personal Training, and Nutrition Classes Etc Why not call us now for a free fitness assessment and free workout on (01)8353330
No Joining Fee
Unlimited Vibroplate Sessions per month, All classes And personal Training Included, Cardio Equipment, Over 60's rates, Student Rates, Quarterly Payments, Mother&Daughter Specials.
Competive Rates
Included in your monthly fee you will get weighed and measured, 8 vibro Sessions per month, Nutritional Advice and Classes, Our membership includes 2 members so grab your Friend, Mother or Daughter and spend some quality time whilst getting fit and heatlhier.
Contact us
For more information on Femme Fitness call Sinead or Lorna on (01)8353330