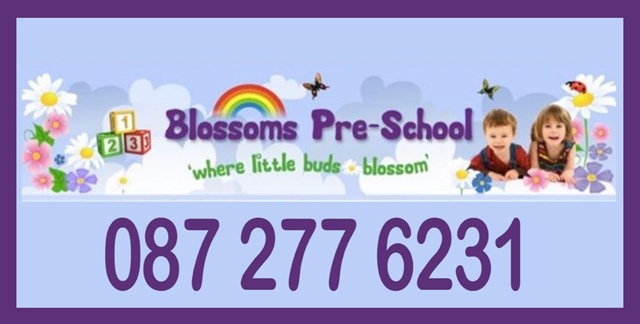 Blossoms Preschool in Enfield, Meath is a Montessori school providing preschool and afterschool care to children inEnfield County Meath.
The staff at this Meath preschool are highly qualified childcare professionals and provide individual attention and care to each child in a safe environment. Toddlers and primary school children of all ages are welcome at Blossoms Preschool.
Blossoms Preschool looks after children from all areas of Meath including: Johnstownbridge, Enfield, Kilshanroe, Cadamstown, Broadford, Kilcock, Newtown and Longwood.
Preschool bookings for free ECCE places are taken at Blossoms Preschool in Meath.
This Meath creche Blossoms Preschool is fully insured and provides a wide range of fun and educational activities for children, helping them learn, interact and grow.
Blossoms Preschool in Meath provides a wide range of preschool services including: toddler time, arts and crafts, books, toys, healthy snacks, full supervision and play area.
After school care for primary school children is a specialty of Blossoms Preschool in Meath.
The caring, fully trained staff at this HSE inspected preschool can pick your child up from school, give them a hot meal and ensure they are safe and happy.
Blossoms afterschool facility offers the following afterschool care services: supervised homework, supervised school pick up, healthy meal, activities, arts and crafts, story time and play area.
Blossoms Prechool in Enfield, Meath runs fun, educational summer camps for toddlers and young children in Enfield, Meath.
The Blossoms weekly summer camp is perfect for children from age two and a half to seven and runs from 9.30am to 1pm. All staff is Garda vetted ensuring your child is in safe hands.
The wide range of activities at Blossoms Summer Camp include: arts and crafts, cookery, musical games, water play and group games.
For more information on Blossoms Preschool, afterschool care or summer camps in Meath, phone 087 277 6231.