Brookfield Stables offer horse riding for all levels.
As well as horse riding lessons and pony camps in Navan, we offer therapeutic horse riding programs in Navan for children and young adults with special needs. Special Needs horse riding improves physical health, relaxes tight muscles, increases balance, builds muscle strength, sharpens hand eye coordination, improves social skills and helps gain a sense of control and self confidence. Try our Special Needs Horse Riding in Meath - you will be amazed by the results.
Special Needs Horse Riding has World Wide Proven Results.
The horse's soothing rhythm, strength, warmth and 3 dimensional movement pattern (same pelvic movement as humans in walk) provides healthy exercise while improving circulation and muscle tone. A sensory Trail for special needs horse riding is currently being used at Brookfield Stables. The Sensory Trail involves a child riding a pony which is led by a member of staff. A Therapeutic coach is at the child's side. The trail consists of a number of adapted learning stations dotted around a trail to help improve sensory awareness and to stimulate learning for the child. Our experience is that the outdoor environment coupled with the movement of the pony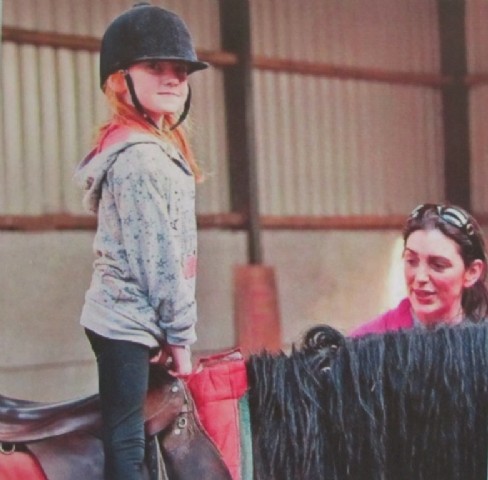 stimulates the child's learning ability to carry out a task in a fun way. Our indoor arena is a great advantage in the wet weather. It involves sensory games and learning aids too. Brookfield Stables also provide equine related activities (non riding) for those who do not wish to ride. These include grooming, leading and just spending time in the presence of theses magnificent animals.
Brookfield Stables provide Horse Riding Lessons to all level and ages.
We provide Horse Riding lessons for children and Adults of all ages. From complete beginners lessons to advanced lessons we aim to provide a quality service. With a maximum of 7 students per lesson, each individual will receive a lot more attention. We also provide separate adult lessons in the evenings. Pony camps are run during children's school holidays.
Brookfield Stables has the following facilities all of which are available for hire.

The 20M x 40M OUTDOOR ARENA is great to get anyone started. It is a safe environment for beginners to learn and to start out on their own. As it is an all weather surface it can be used all year round. Arena can also be hired for lesson with own instructor.
Our 4 FURLONG (half a mile) SAND 7 FIBRE GALLOP is a great way to improve your riding skills. With a little bit more open space for horse and rider, it improves balance and strength with in the rider. The thrill of riding around a gallop is one not to be forgotten.

We have a 6 BAY HORSE WALKER. For anyone who has a horse or pony to get back into exercise slowly, this is the best way possible. For anyone whose horse had an injury and needs very slow exercise also, the walker provides a safe and secure controlled exercise.
We also have a LUNGE RING and 24 LARGE STABLES.
World Wide Proven Results For Special Needs Through Therapeutic Horse Riding.
Parents, family members and medical professionals all around the world report that patients have improved balance, coordination, speech and mobility with special needs horse riding.
Brookfield Stables provides; horse riding lessons Navan, horse riding lessons Meath, pony camps Navan, pony camps Meath, special needs horse riding Navan, special needs horse riding Meath, adult horse riding lessons Meath, adult horse riding lessons Meath.