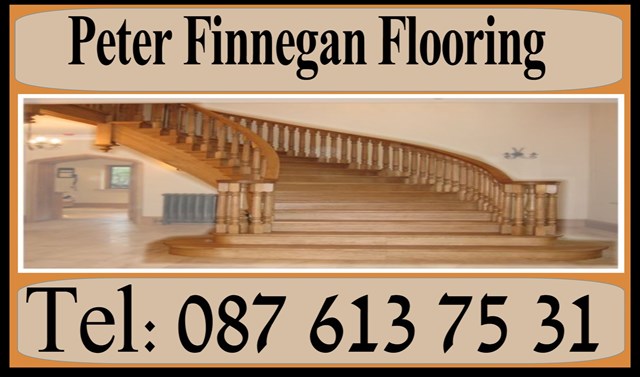 This Tallaght Flooring & Carpentry Business are one of the leading solid wood flooring experts in South County Dublin. The Wooden flooring specialists based in Tallaght lay only top quality wooden floors in the Tallaght and surrounding areas. If you're planning to fit a new floor in Tallaght, call Peter Finnegan for right price quotes, efficient and excellent wooden flooring and all your carpentry needs in South County Dublin.
These wooden Flooring experts servicing Clondalkin and all of South Dublin region lay all types of wood floors for your home or office, including unfinished wood flooring, factory finished wood flooring, solid wood flooring, hardwood flooring, engineered wood flooring, real wood engineered flooring, laminate flooring, Pergo flooring ash wood flooring, maple wood flooring, oak wood flooring, walnut flooring, office flooring, factory flooring, kitchen flooring, bedroom flooring, living room flooring in addition to restoring natural hardwood floors.
For attractive, durable, quality wooden doors and wooden windows contact this Tallaght Wooden Window and Door Company. This highly experienced Tallaght carpentry company employ skilled door fitters, you can rest assured your doors will fit perfectly, work effectively and look beautiful.
This South Dublin Carpenter will fit all types of wooden doors and wooden windows including teak doors, teak windows, wooden conservatory windows, wooden front doors, crafted wooden doors, door jams, wooden door frames, custom wooden doors, solid interior doors, moulded panel interior doors, MDF panelled interior doors.
This Tallaght flooring company also maintains a large stock of quality locks and security fittings which will ensure your high quality doors and windows are secure and enhance the appearance of your home. The expert team of lock fitters in Tallaght are at hand to assist you with your lock choices to suit your security needs.
This Tallaght carpentry service includes, door locks, door latches, window locks, window handles, padlocks, gate locks, gate latches, cabinet locks, garage door locks, multipoint door locks, secondary security locks, cylinder locks, deadlock door locks, mortice locks, sash door locks, brass locks, silver locks, gold coloured locks etc.
In Tallaght if you live in a multi-storey or split -level home, you will need stairs that combine with your house's character and style, beautifully crafted by the Wooden Stair experts at Peter Finnegan Flooring in Tallaght. Their wooden stair specialists will help you choose the perfect staircase creating an attractive focal point of your home.

The Tallaght stair carpenter can create timber balustrades, balustrade lacework, balustrade fretwork, stair safety, stairwell safety, straight stairs, geometric stairs, wooden handrails, stair designs, prefabricated stairs, custom design stairs, stair posts, decorative stair finishing's, wooden landings, anti-slip stairs, round stairs and more.

As a South Dublin Carpenter they are highly experienced in quality wooden roofing and attractive, durable decking for your garden.
The roofing and decking service provided by this Tallaght carpenter include, wooden decking expert provides wooden decking, pressure treated decking, cedar wood decking, redwood decking, wood & plastic composite decking and many more in addition to expert roofing options such as wood shingle roofs, wood shakes roof, wooden roof framing for tile roofs, concrete roofs & slate roofs.
For best quality and value in quality flooring call in and talk to us or phone 087 6137 531