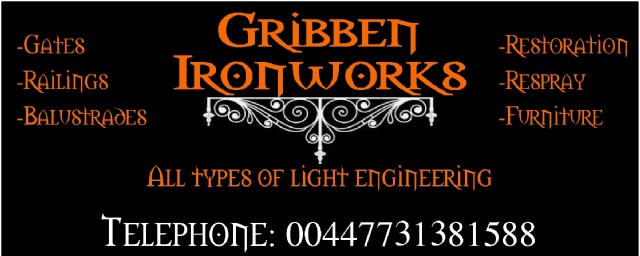 Gribben Ironworks offer a full range of ironworks products and services. Gribben Ironworks take great pride in their gate respraying and restoration services, providing a new look for your home entrance at highly competitive rates.
Gribben Ironworks specialise in gate respraying services and gate restoration services. Gribben Ironworks can fully restore front gates and return them to their former glory, with a very fast turnaround and competitive gate respraying rates. Gribben Ironworks gate restoration and gate respraying results in a top quality finish for your gates.
The skilled artisans at Gribben Ironworks can create from scratch a huge range of decorative ironworks and practical ironworks, custom made to your specifications.
Gribben Ironworks specialise in custom made ironworks, custom decorative ironworks and custom ironworks for practical use. Gribben Ironworks can create custom iron railings, custom iron gates, custom iron dog pens, custom iron dog enclosures, custom iron balustrades and more. For fully customised ironworks, contact Gribben Ironworks today.
As well as offering a range of iron, gates, railings etc., Gribben Ironworks also create a range of bespoke iron furniture and household items.
Gribben Ironworks create bespoke iron furniture, custom iron furniture and custom iron household items. Their range of exquisitely crafted ironworks include iron wine racks, iron umbrella stands, iron picture frames, iron coat stands and more. The iron furniture from Gribben Ironworks make for ideal presents for birthdays, anniversaries and more.
Gribben Ironworks offer a top quality home security item you won't find anywhere else! The Stop N' Lock Home Security Bar makes sure no one is getting through your door when you don't want them to!
Gribben Ironworks features the Stop N' Lock Home Security Bar, an anti-burglar device that is quick and easy to install (15 minutes!) Made to fit any door, the Stop N' Lock will keep any unwanted visitors out and is perfect for front door security, back door security, patio door security etc.
Contact Gribben Ironworks today on 00447731381588 or 3538603934720
You can e-mail Tony Gribben at tonygribben1979@hotmail.com