Stone Sandblasting Carlow are mobile sandblasting contractors in Carlow who specialise in sandblasting stone buildings and interior stonework sandblasting throughout all areas in County Carlow.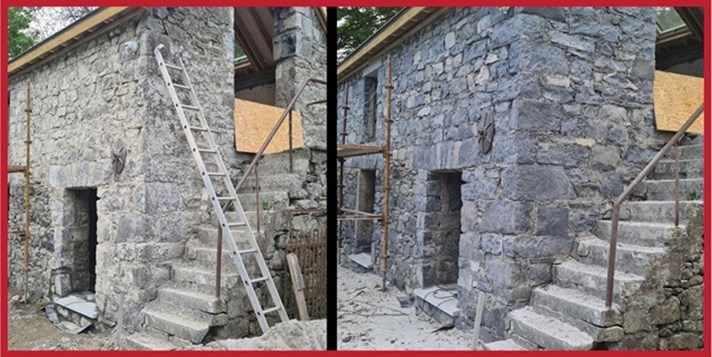 As mobile sandblasters in Carlow, Stone Sandblasting Carlow are the stonework restoration sector of the Rayco Group, owned, and operated by Ray Cahill who is highly experienced in all aspects of stonework cleaning, familiar in sandblasting all types of stonework structures and completes all stonework sandblasting projects from start to finish.
The sandblasting services in Carlow carried out by Stone Sandblasting Carlow includes: sandblasting stone, stonework restoration, shotblasting stone, sandblasting masonry, brickwork restoration, sandblasting brickwork, and all types of sandblasting.
Sandblasting exterior stonework in Carlow is a speciality of Stone Sandblasting Carlow.
Using the latest Denair industrial sandblasting equipment, which is ideal for sandblasting large and small stone buildings, Ray, has all the machinery and tools required for completing all exterior sandblasting work, scaffolding for sandblasting is provided and free estimates on stonework sandblasting in Carlow are provided.
The stone and masonry sand blasting services in Carlow provided by Stone Sandblasting Carlow includes: sandblasting period building, sandblasting stone houses, sandblasting churches, sandblasting stone walls, sandblasting civic buildings, sandblasting listed, buildings and sandblasting all stone structures.
Interior stonework sandblasting services in Carlow are provided by Stone Sandblasting Kilkenny.
Having studied the building techniques of interior stonework in older buildings in Carlow, Ray is highly knowledgeable in how to best sandblast all types of interior stonework and masonry, old stone chimney breasts are sandblasted, all interior sandblasting projects are undertaken and interior sandblasting in Carlow can be arranged at times to suit individual requirements.
The interior stone sandblasting services in Carlow provided by Stone Sandblasting Carlow includes: interior wall sandblasting, fireplace sandblasting, wooden beam sandblasting, chimney breast sandblasting, stone stairway sandblasting, interior brickwork sandblasting, and sandblasting all stone building interiors.
Sandblasting subcontracting in Carlow are undertaken by Stone Sandblasting Carlow
Fully insured to carry out all sandblasting work, the Rayco Group are VAT registered, follow all HSA sandblasting guidelines, all sandblasters employed hold safe passes, and all sandblasting work is carried out in compliance with all health and safety regulations.
The subcontracting sandblasting services in Carlow provided bythe Rayco Group includes: shotblasting, soda blasting, commercial sandblasting, industrial sandblasting, sandblasting factories, sandblasting steel bridges, sandblasting stone bridges, architectural sandblasting, and all sandblasting subcontracting.
For more information on sandblasting in Carlow phone 087 919 2193