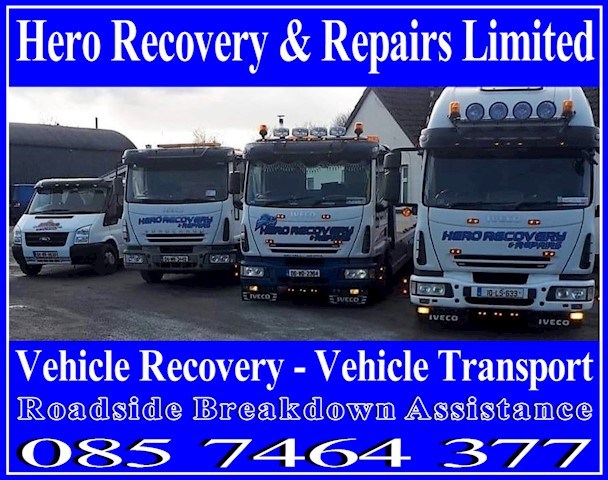 Hero Recovery & Repairs Limited are machinery transporters in County Carlow who provide vehicle recovery and machinery transport to and from all areas in County Carlow.
With a fleet of recovery vehicles in Carlow, Jason Kelly, proprietor of Hero Recovery & Repairs Limited has many years experience in transporting vehicles, has a fleet of recovery trucks in various sizes, and with a team of fully trained recovery drivers, is available for recovering vehicles in Carlow 24/7.
The vehicle transportation services in Carlow provided by hero recovery includes; vehicle transportation, car recovery, roadside breakdown, emergency roadside assistance and recovery on all motorways near County Carlow.
Vehicle recovery in Carlow is a speciality of Hero Recovery.
As a Carlow vehicle recovery service, Hero Recovery is situated near junctions 2 to 8 on the M9 in County Carlow, is insured to recover all types of cars and light commercials, and vehicle recovery in Carlow is available at all times.
The vehicle recovery in Carlow provided by Hero Recovery includes; car recovery, van recovery, jeep recovery, motor bike recovery and light commercial vehicle recovery.
Roadside breakdown assistance in Carlow is provided by Hero Recovery.
With a fully stocked mobile mechanic's van carrying all tools and equipment necessary for emergency vehicle repair, Jason can attend to breakdown vehicles in Carlow quickly, and at short notice and in most cases roadside repairs on minor faults are instantly completed.
The vehicle breakdown assistance in Carlow available from hero recovery includes; jumpstarts, car towing, wheel changes, removing wrong fuel from vehicles, mobile tyre services, flat battery replacements, emergency fuel delivery, fuel tank flushing and all kinds of vehicle assistance.
Vehicle transportation in Carlow is provided by Hero Recovery.
Available to transport all types of vehicles throughout Carlow, Jason specialises in transporting agricultural machinery to and from machinery auctions, using recovery vehicles with a fitted haib, machinery can be easily loaded and unloaded, and vehicle transport in Carlow can be arranged at short notice.
The vehicle transport to and from Carlow available from hero recovery includes transporting; tractors, diggers, vintage cars, rally cars, jeeps, 4x4, mini diggers, trailers, farm machinery and transporting vehicles to and from; machinery auctions, car rallies, garages, Garda impounds, building sites, vintage car shows, ploughing championships and all types of vehicle transportation.
For more information on vehicle recovery in Carlow phone 085 746 4377.