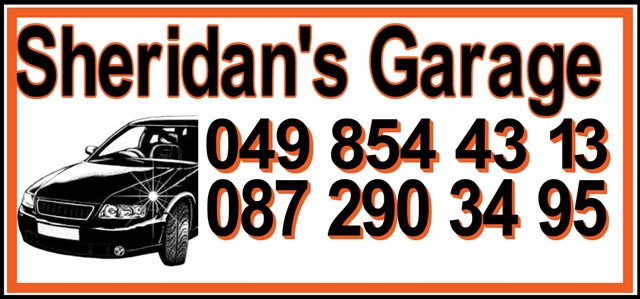 Sheridan's Garage are a long established family run Garage and provide a full car service and car repair service in Ballyjamesduff, Virginia, Ballieborough and County Cavan.
The services provided by this county Cavan commercial mechanics include, full commercial vehicle service, body and mechanical repairs, re-spraying, body repairs and all types of mechanical checks.
All mechanics at Sheridan's Garage Cavan are fully qualified and Commercial vehicle servicing and PSV repairs are a speciality providing commercial servicing and body repairs for all types of commercial vehicles.
The car servicing and repairs provided by this County Cavan Garage include: Gearbox repair, brakes, Clutch repair, Transmissions repair,, car re spraying, crash repairs, Suspension check, Oil change, Filter change, Timing belt replacement, fuel filters, Wheel balancing and alignment.
Body Repairs Cavan provide a top quality crash repair services and auto spraying service at very affordable prices.
Sheridan's Garage are the ideal mechanics for all commercial vehicle body repairs including, small crash repairs, major crash repairs, repairing dents, accident repairs, insurance work, auto body repairs, repairing scrapes, panel beating, vehicle welding jobs, commercial re-spraying and emergency car repairs.
Pre NCT checks and DOE checks are available at Sheridan's Garage in Cavan for all types light commercials, heavy commercials and Public Service vehicles.
Sheridan's NCT garage in Cavan provide full NCT checks and DOE checks for all commercial vehicle, lorry's, vans, trucks, buses, commercial vehicles and PSV's and can fix any vehicle fault before or after any NCT or DOE test.
Full vehicle diagnostic tests are available from Sheridan's Garage in Ballyjamesduff, Virginia and county cavan, with all the latest diagnostic equipment to test all PSV's, and commercial vehicles.
Car diagnostic tests provided by this Cavan's garage include engine faults, steering faults , engine warning light, suspension faults, Gearbox, Clutch, Accident damage and brakes.
Sheridans Garage offer body repairs by third party and can give you a quote.
For more information please call 049 854 43 13/ 087 290 34 95