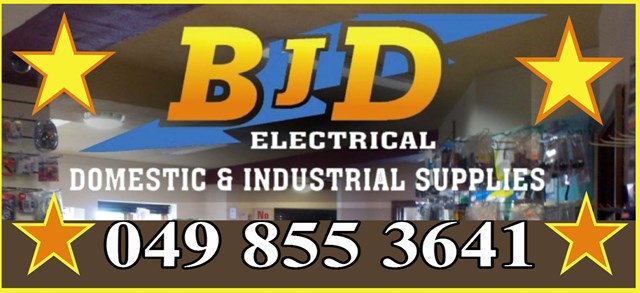 BJD Electrical is one of the biggest and best retailers of first class electrical products in county Cavan. With over 30 year's experience in the electrical industry, BJD Electrical provide a complete range of electrical products at the best value in county Cavan.
As one of the leading suppliers of Electrical products in county Cavan, BJD Electrical supply a wide range of Electrical products for domestic and industrial use.
The range of BJD electrical stock in Cavan include, washing machines, computer consoles, phones, electric cookers, vacuum cleaners, alarm systems, blenders.
BJD Electrical supply the latest range of Kitchen appliances in their County Cavan electrical shop and their experienced staff can assist in finding the right electrical kitchen appliance to suite your home.
Their friendly staff provides excellent advice and service to the customer and all of BJD Electrical products are fully guaranteed.
The electrical appliances stock in BJD kitchen Cavan include, Fridge Freezers, Microwaves, Oven's, Kettles, Toasters, Expresso Makers, Oven Hob's, and supply a wide range of electronic kitchen accessories.
BJD Electrical supply the most modern electronic entertainment products in county Cavan, all at the most affordable prices. The best selection of modern electronic entertainment devices are in stock at BJD electrical Cavan.
The entertainment electronic devices stoked at BJD Electrical Cavan include , I Pods, Laptops, TV's, Computer Consoles, HI FI Systems, Cameras, Sat Nav Systems, DVD Players, Tablets, Desktop Computers, Docking Stations, printers and a large selection of Electronic entertainment accessories.
The security division of BJD Electrical stock a wide range of electronic security products in the security section on their Cavan electrical shop.
As Cavan's leader in electronic Security products. Their electric gate automation service covers is available throughout Counties Cavan, Meath and Longford.
The security stock in their Cavan security store include, CCTV systems, Intercoms, Security systems, Cables, Electric fencing, Electric gates, DRVs, Recording cameras, Sensor lights, and a range of Electronic security accessories.
The electronic lighting department in BJD Electrical Cavan provide a complete electronic lighting service to its customers. They have an extensive range of electronic lighting in stock and they supply to the domestic and industrial market.
Their range of electronic lighting can be viewed in the showroom of BJD Electrical in county Cavan.
BJD Electrical lighting products in stock include spotlights, bathroom lights, reading lamps, study lamps, light bulbs, fluorescent lights, touch lamps, halogen lamps, LED Lighting, picture lights, display lighting, garden lighting, outdoor lighting.
For more infromation call 049 8553641