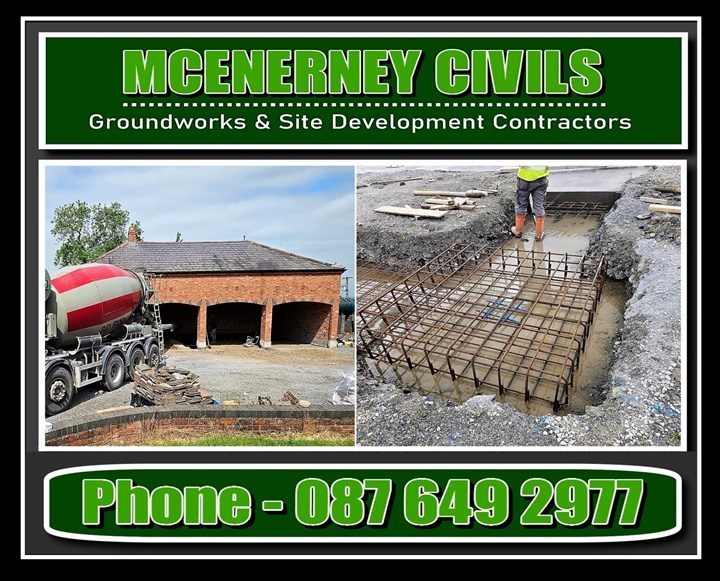 McEnerney Civils are groundworks contractors in County Cavan who specialise in providing a complete range of groundworks and site development services in Cavan and throughout all surrounding counties.
Providing groundsworks services in Cavan and surrounding counties, Michael proprietor of McEnerney Civils has over 25 years' experience in groundworks and site development across the US and UK and are fully insured to undertake all groundworks and site development projects.
The groundworks services provided by McEnerny Civils includes:
Groundworks
Site Preparation
Site Clearance
Concreting
Kerb Laying
With a range of modern plant and machinery McEnerney Civils provide a complete range of site services, and free surveys and quotations on site clearance and site preparation are provided.
The site preparation and site clearance services provided by McEnerney Civils includes:
Site Clearance
Site preparation
Foundation works
Pipe and duct installation
Sewerage and waste water drainage
Concreting and kerb laying is a speciality of McEnerney Civils.
Concreting and kerb laying is undertaken from start to completion, all work carried out by McEnerney Civils complies with all construction regulations, and concreting and kerbing services are available for the commercial and residential sectors.
The concreting and kerb laying services provided by McEnerney Civils includes:
Residential and commercial concreting
Driveway kerbing
Concrete shuttering
Concrete structural formwork
For more information on groundworks in Cavan and surrounding counties phone: 087 649 2977