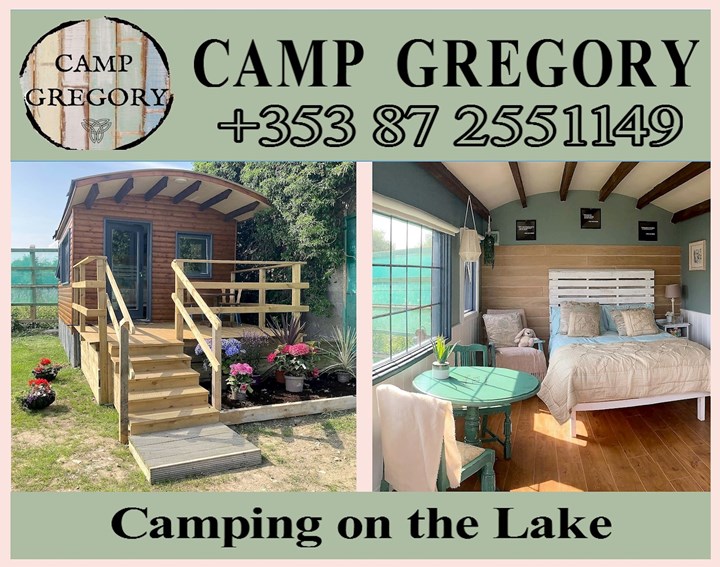 Camp Gregory is a purpose-built glamping park in Cavan, that rent bespoke glamping cabins and provide serviced caravan pitches in their glamping site in Shercock, County Cavan.
As a family run glamping site in Cavan, Camp Gregory is situated close to Cavan's Steepletons Lough, has a wide variety of modern camp site facilities, is located close to many Cavan tourist attractions, and their glamping site in Cavan provides glamping and caravan pitch rentals throughout the year.
The campsite accomodation in Cavan provided by Camp Gregory includes: luxury glamping, self-catering holiday, self-catering glamping, cabin glamping, caravan pitches, and overnight caravan stays.
Renting bespoke glamping cabins in Cavan is a speciality of Camp Gregory.
Located close to many of Cavan's 365 lakes, Camp Gregory's glamping site consists of 6 hand-made wood glamping cabins, various sizes of glamping cabins are available to rent, local shops and takeaways are nearby, and glamping cabin rental in Cavan can be pre-booked online.
The glamping in Cavan provided by Camp Gregory includes: glamping for families, glamping for couples, weekend glamping, short-term glamping, and affordable glamping.
Caravan pitches in Cavan are provided by Camp Gregory.
All caravan pitches are safe and secure, on-site kitchen and bathroom facilities are provided, electricity is supplied, and caravan pitch users can avail of the many amenities at Camp Gregory's caravan pitches in Cavan.
The caravan pitches in Cavan available at Camp Gregory include: overnight caravan parking, weekend caravan parking, secure caravan parking, caravan parking with amenities, caravan parking with facilities, and caravan parking with electric plugins.
Camp Gregory's glamping site is ideally located for visitors glamping in Ireland's North East.
Situated in Shercock on the R162 close to the N2 and the N3, Camp Gregory is nearby many Cavan tourist attractions, fishing at Lough Sillan is less than 5 minutes away, Mourne Shooting Grounds is easily accessible, visitors can go on walks at the nearby Billy Foxes Memorial Park or Erica's Fairy Forest, and Camp Gregory neighbours many other Cavan tourist attractions.
Camp Gregory's glamping site in Cavan is ideally located close to: N2, N3, Lough Sillan, fishing lakes in Cavan, tourist attractions in Cavan, things to do in Cavan, and things for families to do in Cavan.
For more information on glamping in Cavan, call 087 255 1149.