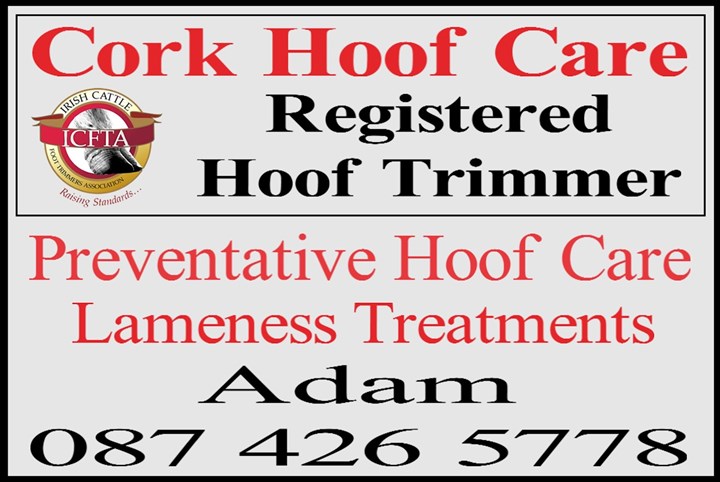 Cork Hoof Care are bovine hoof care specialists in Cork who specialise in providing a complete range of hoof care services to dairy farms throughout all areas of County Cork.
As a Cork registered hoof trimmer, Adam Zsinko t/a Cork Hoof Care, is fully insured and highly experienced in all aspects of hoof care management, and with the latest cattle hoof trimming equipment, all hoof trimming projects in County Cork are undertaken.
The hoof care services in Cork carried out by Cork Hoof Care include; hoof trimming, dairy herd hoof care, hoof care management, cow lameness solutions, cattle lameness treatments and contract dairy farm hoof care services.
Cow hoof trimming in Cork is a speciality of Cork Hoof Care.
Ensuring minimum distress to cows being hoof trimmed, Adam uses a mobile ACCU-TRIM® comfort H series chute, specially designed to restrain cattle in a comfortable manner, thus allowing all hoof treatments to be performed precisely and hoof trimming in Cork can be arranged at short notice.
The hoof trimming in Cork provided by Cork Hoof Care includes; cow hoof trimming, cattle hoof trimming, bull hoof trimming and all hoof trimming services.
Lameness treatments for cows and cattle in Cork are provided by Cork Hoof Care.
As a member of the Irish Cattle Foot Trimmers Association, Adam is highly experienced in the causes and treatments of lameness in cows and cattle, preventative hoof care lameness treatments are carried out, advice on all aspects of hoof care are available, digital hoof report systems are provided and an ongoing hoof care programme to dairy herds in Cork can be arranged.
The lameness treatments for cows and cattle in Cork available from Cork Hoof Care includes treatments for; white line abscess, laminitis, slurry heel, foul-in-the-foot, sole ulcer, digital dermatitis, septic arthritis, joint-ill, carpal hygromas and hock damage.
For more information on hoof trimming in Cork phone 087 426 5778