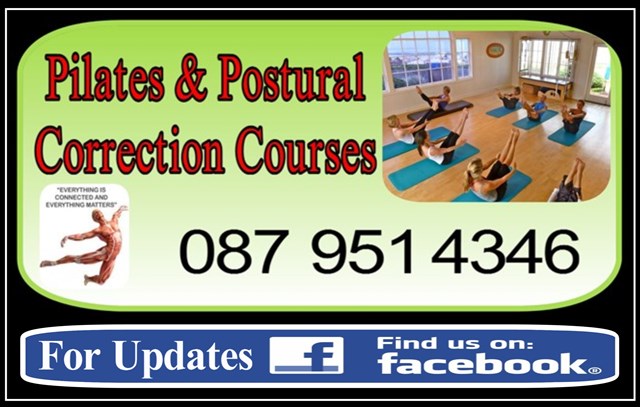 Pilates Cork provides Pilates and Postural Correction courses for people of all ages and abilities in Innishannon, Carrigaline, Kinsale and Bandon, County Cork.
As a Pilates teacher in Cork, Debbie of Pilates Cork has been teaching Pilates for many years and is highly experienced in all aspects of teaching pilates to beginners and improvers.
This professional Pilates Cork Teacher provides excellent Pilates and Postural Instruction Courses in the following areas in Cork, areas including Bandon, Kinsale, Innishannon, Ballinhassig, Riverstick, Clonakilty and Waterfall.
Pilates Classes from Pilates Cork is suitable for everyone and is a gentle way to strengthen muscles and restore flexibility and mobility for people of all ages in County Cork and Cork city areas.
Professional Instructors at this Cork Pilates and Postural Correction Course have the expertise to provide excellent and enjoyable Pilates Classes in County Cork that aim to create a natural balance, suppleness and strength to the body.
Innishannon based Pilates and Postural Correction Courses from Pilates Cork provides the following services in the Cork and surrounding areas, services including, exercise for beginners, Pilates for older people, Postural correction classes, Pilates classes, toning exercises and muscle strengthening classes.
Pilates systematically exercises all the muscle groups in the body
There are a range of health benefits from attending the Pilates and Postural Correction Courses from Pilates Cork.
The health benefits from Pilates and Postural Correction Courses from Pilates Cork for members throughout the Cork area are as follows, strengthening weak muscles, toning the body, improving core strength, correcting back problems, preventing injuries, reducing back and neck pain and reducing body fat.
Fully qualified instructors at the Pilates courses in Cork come highly recommended.
They are dedicated to giving 100% attention to all class members ensuring all members get the very best results from each pilates and postural class, and they provide daily classes for members in the Cork area.
Pilates Cork have highly qualified Pilates Instructors Providing Pilates and Postural Correction courses daily in the following venues, Carrigaline Educate Together School, Innishannon Hall, Kinsale Commerial Park and Bandon Town Hall.
Some reviews of Pilates Cork from students in the County Cork area.
Orla Innishannon - Highly recommend this class-I did Pilates once before and found it really boring until I joined this class. In the space of a few weeks in Debbie's class I went from not being able to sit up to doing roll ups on my own, my back pain has decreased and I have discovered muscles I never knew I had. Looking forward to learning lots more Pilates.
Alice Carrigaline - I joined Debbie's class to improve my core as I suffer from lower back problems. Debbie is an amazing instructor. She gives 100% attention to all of her class members. I have been told by lots of my friends that they see a huge improvement in my shape, especially around my tummy area. Thank you so much Debbie for being so passionate and professional about what you do.
Deirdre Kinsale - Debbie's classes are great. She is a really talented teacher, very encouraging and able to communicate very well. Her Pilates class has really improved my overall strength which I delighted about and I almost look forward to the class every week - I highly recommend her classes.
For Further information on Pilates classes in Cork please call 087 951 4346