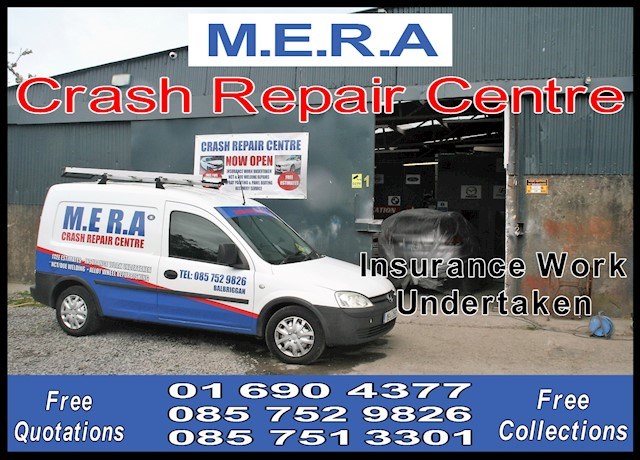 MERA Crash Repairs are vehicle crash repair specialists in Balbriggan North County Dublin who specialise in repairing crashed cars and crashed light commercials in their Balbriggan Crash Repair Centre.
All MERA's crash repair technicians are highly experienced and fully qualified, undertake major and minor crash repairs in their large Crash Repair Centre in Balbriggan that is fully equipped with a complete range of modern crash repair equipment.
The crash repairs in Balbriggan provided by MERA Crash Repairs includes; car crash repairs, van crash repairs, light commercial crash repairs, vehicle spraying and Vintage car restoration.
Carrying out minor crash repairs in Balbriggan is a speciality of MERA Crash Repairs.
Knowledgeable in removing dents on modern cars, MERA's panel beaters provide same day minor vehicle crash repairs and vehicles requiring crash repairs can be collected in Balbriggan and North County Dublin.
The minor crash repairs in Balbriggan available from MERA Crash Repairs include; dent removal, bumper repairs, car scrape removal, bumper scuff repairs, vehicle rust repairs, key scratch repairs, plastic welding, fibreglass repair and all minor vehicle body repairs.
Vehicle paint spraying in Balbriggan is provided by MERA Crash Repairs.
With a large paint spraying booth and familiar with vehicle paint coding, all type of vehicle paint spraying is undertaken and car spraying in Balbriggan can be arranged at short notice.
The vehicle spraying in Balbriggan available from MERA Crash Repairs includes; car spraying, van spraying, light commercial vehicle spraying, trailer spraying, alloy wheel repainting and paint spraying all type of vehicles.
Vehicle body repairs covered by insurance claims are provided by MERA Crash Repairs in Balbriggan.
As a registered crash repair business in Balbriggan, MERA Crash Repairs carry out crash repairs for many Irish car insurance companies, free quotations on crash repairs are provided and with a secure vehicle storage compound vehicles awaiting insurance assessments can be safely stored.
The vehicle body repairs in Balbriggan carried out by MERA Crash Repairs includes; wing replacements, bonnet replacements, panel beating, chassis realignment, vintage car restoration, vehicle bodywork, allied wheel repairs and repairing all type of crash vehicles.
For more information on crash repairs in Balbriggan phone; 01 690 4377 – 085 752 9826 - 085 751 3301