The Morning Star Clinic is a friendly, professional and fully accredited acupuncture clinic in Walkinstown, Dublin which provides a full range of Acupuncture and Phytobiophysics treatments for clients in Walkinstown, Clondalkin, Kimmage, Terenure, Templeogue, Crumlin, Drimnagh and Inchicore.

This Dublin 12 acupuncture clinic promotes a movement towards natural harmony in order to heal illness and relieve pain.
The Morning Star Clinic provides the following treatments acupuncture, phytobiophysics, natural healing, alternative therapy, Chinese medicine and alternative medicine. The Morning Star Clinic has clients from all over Terenure, Templeogue, Clondalkin, Kimmage, Drimnagh, Crumlin, Inchicore, Walkinstown and surrounding areas.

The Morning Star Clinic - Walkinstown acupuncture clinic, uses the wisdom inherent in Chinese Medicine to provide acupuncture tailored to each client's individual condition, with the aim of treatments being to facilitate a return to health in ways that cause no side effects and that can have lasting effects on quality of life.
The highly qualified and experienced Dublin acupuncturist Colin Starrett uses this alternative therapy to promote healthy energy movement which restores the body's natural ability to heal illness and relieve pain.
The Morning Star Clinic in Walkinstown uses acupuncture for the treatment of the following medical conditions, Addiction, Breathing Conditions, Asthma, Sinusitis, Hay Fever, Childhood Illness, Digestion Problems, Crohn's Disease, Colitis, Constipation, Diarrhoea, Eye and Ear Conditions, Facial Pain, Facial Paralysis, Fatigue, Impotence, Insomnia, MS, Infertility, Pregnancy Problems, Headache, Migraine, Dizziness, Irregular/Painful Periods, Mental Emotional Conditions, Depression, Anxiety, Pain, Arthritis, Injuries, Back Pain, Sciatica, Skin Conditions, Eczema, Psoriasis, Rashes, Urinary Infections and many more

This long established Dublin 12 acupuncture clinic uses acupuncture in conjunction with Phytobiophysics to provide a treatment tailored to each client's individual condition to correct imbalances in the body and help restore health.
As a fully insured and an accredited member of the Acupuncture Foundation Professional Association and the European Traditional Chinese Medicine Association, The Morning Star Clinic comes highly recommended to treat a great range of medical conditions in the Dublin area.
For more info call 087 7624 336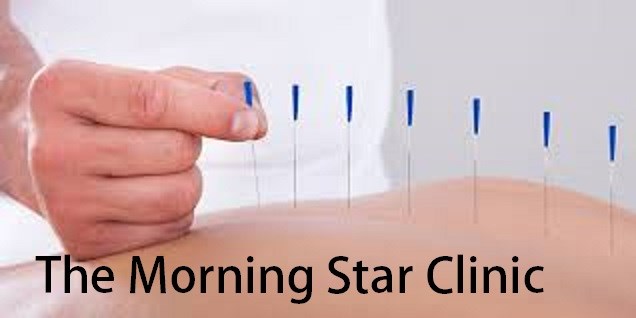 For Futher information please call 087 7624336