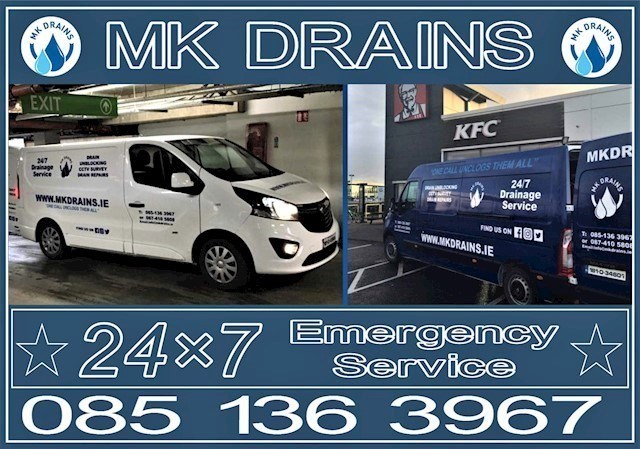 MK Drains are drain cleaning contractors in Blanchardstown, who provide a comprehensive range of drain maintenance and drain unblocking services throughout Blanchardstown.
As local Blanchardstown drain cleaners, MK Drains have many years' experince in the drain cleaning business, are VAT registered, and use sewer cleaning trucks equipped with the latest drain cleaning technology which can detect all types of problems in drains, and all drain cleaning undertaken complies with health and safety regulations.
The drain services in Blanchardstown available from MK Drains include: drain cleaning, emergency drain unblocking, CCTV drain inspections, drain repair, drain excavation, drain unblocking, and commercial drain cleaning.
Drain unblocking in Blanchardstown is provided by MK Drains.
As drain maintenance contractors, MK Drains are familiar with all Blanchardstown sewerage systems, have the appropriate jetting systems required for clearing all types of drain blockages, and emergency drain unblocking in Blanchardstown can be provided at short notice.
The drain cleaning in Blanchardstown available from MK Drains includes: kitchen drain unblocking, sewer cleaning, emergency drain unblocking, sink unblocking, toilet unblocking, sewage drain unblocking, drain jetting, and residential drain unblocking.
Commercial drain cleaning in Blanchardstown is carried out by MK Drains.
As fully insured drain maintenance contractors, all MK Drains' drain cleaners are fully qualified drain technicians who hold safe passes, contract commercial drain cleaning is provided, grease traps are cleaned, and quotes on commercial drain cleaning in Blanchardstown are available.
The commercial drain services in Blanchardstown provided by MK Drains include: grease trap cleaning, grease release unit cleaning, car wash liquid waste collection, drain odour detection, commercial drain unblocking, industrial drain cleaning, commercial drain jetting, contract drain maintenance, and affordable commercial drain maintenance.
Providing CCTV drain inspections in Blanchardstown is a speciality of MK Drains.
Using the latest technological drain inspection cameras, exact locations of drain blockages can be accurately detected, drain blockages are recorded and reports can be submitted to relevant bodies if required, and MK Drains can provide CCTV drain inspections in Blanchardstown at times suiting individual requirements.
The CCTV drain inspections in Blanchardstown available from MK Drains include CCTV inspections for: blocked sewers, damaged sewers, drain assessments, damaged drains, blocked drains, insurance reports, frequent drain blockages, finding collapsed drainage pipes, home buyers surveys, and finding drain leaks.
For more information on drain cleaning in Blanchardstown, call 085 136 3967