Allied Damp Solutions Dublin provide a full Damp Assessment and damp Repair service.
With many years experence in the Damp Proofing business, Allied Damp Solutions are the best to call for all damp problems.
Specialists in all aspects of moisture ingress, and the breakdown of an existing damp proof course DPC, Allied Damp Solutions Dublin provide an excellent damp assessment and damp repair services all over Dublin City and County including the following areas; South Circular Road, North Circular Road, Clontarf, Stoneybatter, Dublin 4 and Dublin 6.
Allied Damp Solutions Services include, damp assesments, dry rot assesment, dry rot treatments, woodworm treatment, wood worm assessment, site survey, damp proofing homes, first time buyers damp proofing Ireland, damp proofing Dublin, affordable dampproofing, all carried out by Allied Damp Solutions Dublin.

Specialising in Dry Rot and Wet Rot, Damp Proofing Dublin will carry out a site survey and identify the type of rot and treat and repair the damage at very affordable prices.
Dry and Wet Rot are a very serious probles and must be treated sooner rather than later, it can cause extensive damage to structural timbers if not treated on time, Damp Proofing Dublin are experts in Dry and Wet Rot problems and can assess and treat the damage. Services include, identifying dry rot, dry rot problems, dryrot, dry rot solutions, dry rot removal, mould solutions, get rid of dry rot,treating dry rot problems, treating wet rot problems,wet rot in timbers, crumbling wood in house, rot problems in old house, affordable rot treatments available from Damp Proofing Dublin.

Condensation build up can be a major problem for homes or rental properties, Allied Damp Solutions can make an assessment of the problem and treat it efficiently with the minimum of disruption to the client.
Allied Damp Solutions are expert in Condensation problems in the home or rental properties. It can be easily treated by Allied Damp Solutions with either electro osmosis technique or using a silicone emulsion cream ensuring a continuous barrier against damp and condensation in the future. Services include, condensation problems,condensation solutions, electro osmosis, DPC injection, treating condensation, condensation build up, fungal growth on windows, condensation on walls, mould on walls, mould problems in rental property, mould on bedroom walls,mould in apartments, mound on bathroom walls, odours from condensation, condensation experts at Allied Damp Solutions Ireland can eliminate all condensation problems with minimum disruption to the client.

Experts in the treatment of Woodworm, Damp Proofing Dublin have many years experience in the treatment of woodworm problems.
The tiny woodworm beetle can cause a lot of damage to all timber structures, if not treated on time it can cause devastating problem to the structure of a home or rental property, the experts at Damp Proofing Dublin can identify the problem and discuss the options for treatment. Services include, woodworm treatment, identifying problems in timber, wood worm problems, woodworm solutions, woodworm treatment, woodworm eradication, woodworm problems, holes in timber, affordable woodworm treatments all available from Damp Proofing Dublin.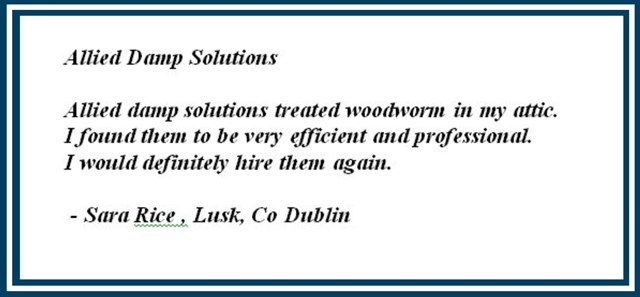 For more information on damp proofing in Dublin phone - (01) 6680404 / 089 4877616