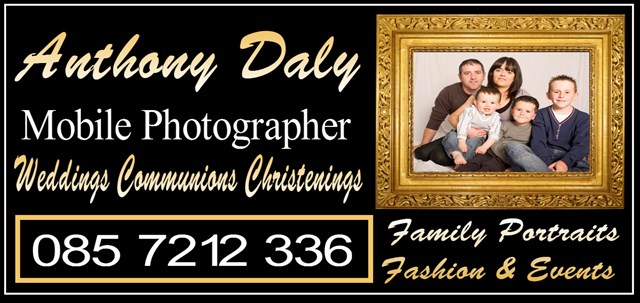 Anthony Daly is a professional and experienced Kildare photographer, currently working as the main photographer for the Kildare Post newspaper.
Covering the photography of all fashion and news stories in Kildare since 2007, Anthony is highly skilled in all types of photography for the private and commercial market.
Anthony's mobile photography studio can travel to provide photography services in County Kildare, Kildare town and surrounding areas including: Sallins, Naas, Athy, Newbridge and Rathangan.
Anthony Daly provides bespoke photography services from his Kildare studio as well as mobile photography services for Kildare and surrounding areas.
Accomplished photographer Anthony always puts his clients at ease during every photography shoot. With state-of-the-art photographic equipment, Anthony guarantees polished results on all Kildare photography work.
This skilled Kildare photographer is available to photograph all type of events including: Christenings, Communions, Confirmations, School portraits, Graduation photos, Family gatherings and Family portraits.
Event photography is a specialty of Kildare-based mobile photograph studio Anthony Daly.
Anthony has photographed media events, private events and corporate events in Kildare, using up-to-date digital photography equipment to ensure a professional result.
Anthony provides photography services for a wide variety of private and corporate occasions including: sports events, festivals, weddings, concerts, theatres, birthdays, fashion shows, Christmas parties and corporate events.
Fashion photographer Anthony Daly in Kildare provides expert fashion photography services to private, commercial and corporate clients in Kildare and surrounding areas.
As well as shooting sports and fashion events for the Kildare Post newspaper, Anthony's photographs have been printed in brochures, advertisements, magazines and websites.
Anthony Daly's Kildare Mobil Photography offers a wide range of photography services including: fine art photography, portraiture photography, VIP photography, commercial product photography, advertising photography and brochure photography.
For more Information phone Anthony on 085 7212 336.