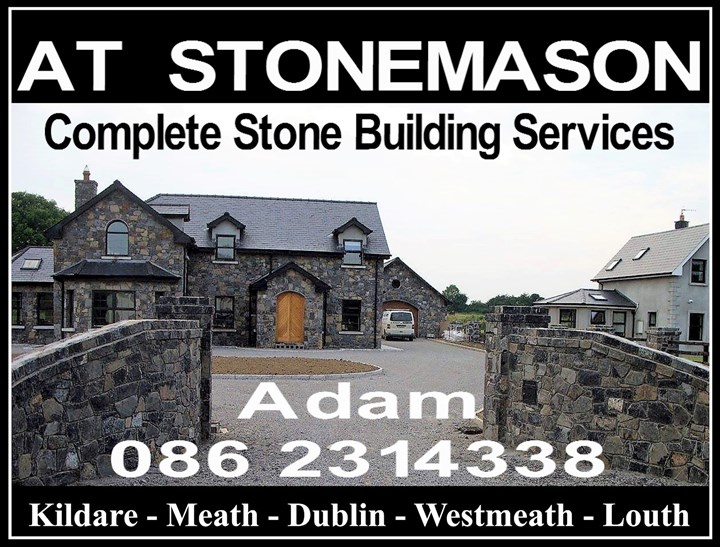 AT Stonemason are stonemasons in County Kildare that provides a full range of stonemasonry services throughout Kildare and surrounding counties.
As a qualified stonemason in Kildare, Adam, owner of AT Stonemason, has over 20 years' experience in building stone, is fully insured, and undertakes large stone building projects and small stone building projects throughout County Kildare.
The stonemasonry services in Kildare provided by AT Stonemason includes building; exterior stonework, interior stonework, stone construction, building stone, stonework restoration and stone building renovations.
Building exterior stone structures in Kildare is a speciality of AT Stonemason.
With all the masonry equipment required for building stone, AT Stonemason completes stone building projects from start to finish, house extensions can be built in matching stone, stone archways are built, and Adam provides estimates on stone house building in Kildare.
The exterior stone building in Kildare, carried out by AT Stonemason includes building; stone houses, exterior stone structures, stone walls, stone piers, stone patios, stone cladding, external stone features and all exterior stone building.
Interior stonework building in Kildare is carried out by AT Stonemason.
Familiar with building all types of stone fireplaces, Adam can advise on what type of stone is best suited for building interior stone structures, a portfolio of previously stone built fireplaces can be viewed and interior stonework in Kildare can be arranged at short notice.
The interior stone structures in Kildare, built by AT Stonemason includes building; bespoke stone fireplaces, stone stove surrounds, interior stone cladding, stone mountains, interior stone features and constructing all interior stone works.
Stone restoration in Kildare is carried out by AT Stonemason.
As a stonemason, Adam has carried out stonemasonry on many prestigious and listed buildings, is familiar with traditional stone building techniques, stone can be sourced to match original stone and all work carried out by AT Stonemason is compliant with all building rules and regulations.
The stone restoration in Kildare provided by, AT Stonemason includes; stonework rebuilding, restoring old stone buildings, interior stone restoration, and providing stonemasonry services to; listed stone buildings, churches, cathedrals, old stone houses, stone wall restoration and all stone conservation work.
For more information on stonemasonry services in Kildare, Phone Adam 086 231 4338