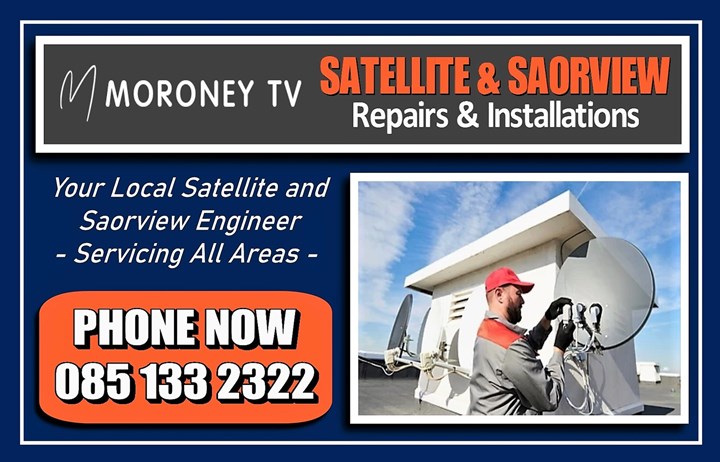 Moroney TV Systems are satellite repair and installation technicians in Kilkenny, who provide a full range of satellite and Saorview installations and repairs in Kilkenny City and throughout County Kilkenny.
As a local satellite engineer in Kilkenny, Keith is highly qualified, fully insured, VAT registered and has vast experience in what types of aerial and satellite dishes work best in Kilkenny City and Kilkenny County.
The satellite installation and Saorview installation in Kilkenny provided by Moroney TV Systems is carried out in areas including: Callan, Thomastown, Fethard, Ballypatrick, Mullinahone, Mullinavat, and Kells.
Repairing satellite systems and Saorview aerials in Kilkenny is a speciality of Moroney TV Systems.
Stocking all the latest satellite test equipment, faults in satellites are diagnosed, commonly required spare parts for repairing satellites are carried, enabling Keith to repair all satellite faults on his first visit, and satellite and Saorview repairs in Kilkenny can be provided at short notice.
The satellite and Saorview repair in Kilkenny carried out by Moroney TV Systems includes: no satellite signal, no Saorview signal, Saorview glitching, satellite glitching, faulty satellite dish, no Sky signal, satellite dish realignment, faulty LNB, aerial repair, water in coaxial cable, satellite replacement cable, and not receiving signal.
Free to air television systems installations in Kilkenny are carried out by Moroney TV Systems.
As an independent free to air satellite installer, Keith supplies and fits all types of non subscription television digital TV channels, and free quotations on free to air television system installations in Kilkenny are available.
The non-subscription TV free to air channels available in Kilkenny from Moroney TV Systems include: satellite TV, Saorview, freeview, BBC channels, free movie channels, free sport channels, once-off payment TV stations, astra 28.2, astra 19.2, horbird 13.00, and all foreign satellites.
Commercial television distribution in Kilkenny is provided by Moroney TV Systems.

Using multiswitches, numerous satellite and digital channels can be incorporated to singular coaxial cables, hundreds of digital TV stations can be distributed to television points within buildings, and Keith can arrange distribution of tv signals in commercial properties in Kilkenny at times to suit individual requirements.
An array of Multi-channel TV signals can be fed on single coax direct to all TVs in a building without the need of a receiver at each TV.
The TV distribution services in Kilkenny provided by Moroney TV Systems include: TV services, multi room TV, apartment TV distribution, hotel TV distribution, TV distribution system repairs, quattro LNB replacement, multiswitch replacement, and TV distribution system repairs.
For more information on satellite and Saorview repairs in Kilkenny, call 051 642 580 - 085 133 2322