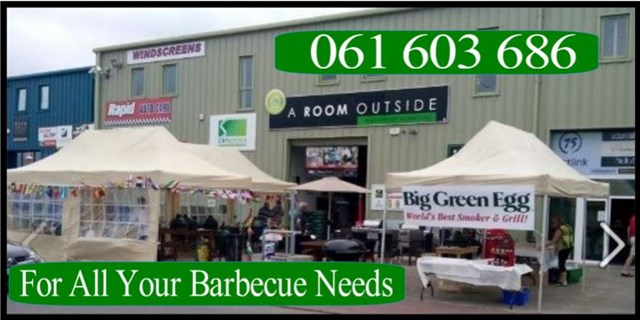 As a Limerick Barbecue supplier, A Room Outside stocks a complete range of the Big Green Egg barbecues and barbecue cooking equipment.
This barbecue supplies company in Limerick are experts in a wide range of BBQ products from accessories to fuels. Their fully trained and qualified staff can answer any question you have in relation to all types of barbecue equipment and any of your outdoor and barbecue needs.
Based in Limerick, this Big Green Egg Supplier provide a range of BBQ Cooking accessories such as The Big Green Egg Barbecue, Big Green Egg Accessories, Big Green Egg Cooking utensils, Big Green Egg Organic Lump Charcoal, Plate Setter, Baking Stone, Barbecue Cooking utensils, Pizza Peel, Pizza Accessories, Charcoal and Woodchips and Cast Iron Grids.
Available from A Room Outside Limerick, The Big Green Egg BBQ is very popular because it is a versatile barbecue for outdoor cooking and has a wide range of conventional, outdoor BBQs and cookers combined.
The Big Green Egg Barbecues for sale from this Limerick Outdoor BBQ Specialist come in an array of sizes and varieties, and with its sturdy ceramic shell it has a reputation for being the best quality and most reliable barbecue in the market.
This Limerick Big Green Egg Supplies Company provide Quality Barbecues, A wide variety of Barbecues and BBQ accessories, Reliable Barbecues and Barbecue Brands.

Located in Limerick, This Big Green Egg Accessories Specialist stock a wide range of Big Green Egg BBQ utensils and barbecue tables for every size home.
From the Mini Egg to the Extra Large Egg, The Big Green Egg's Limerick Store supply the biggest range of Accessories whatever your requirements, and their friendly staff have the product knowledge to assist you with any queries you may have.
A Room Outside Limerick provide the following Big Green Egg Accessories: Big Green Egg Tables, Royal Mahogany Table Silver Finish, Hemlock / Cedar Table for extra large Egg, BGE Table Covers, Premium Cover for Large Egg in a Hemlock/Cedar Table, BGE Ergo Knife Set, Premium Ventilated Cover BGE XL, Medium and Small in a nest, Cooking Grids for Big Green Egg, Three Level Cooking Grid for Large BGE, Cast Iron Searing Grids, Two Level Cooking Grids, Halfmoon Raised Grids, Cast Iron Dutch Ovens, Egg Dome Covers, Big Green Egg Meat Thermometer, Perforated Porcelain Round Grid, Big Green Egg Ash Pans, BGE Tong, Fork and Spatula.
A Room Outside Limerick Barbecue Fuel Specialists Stock Charcoal for The Big Green Egg and all other Barbecues.
This Limerick Barbecue Fuel Company not only provide barbecue charcoal, fuel and woodchips but they deliver their service with efficiency and speed. All BBQ fuels and Big Green Egg Charcoals are available for home delivery.
The Big Green Egg Charcoal and Fuel Store Limerick provide Big Green Egg Lumpwood Charcoal, Barbecue Fuels, BBQ Woodchips, Barbecue Fire Starters, Flogas Patio Gas, Big K Restaurant Grade Lumpwood Charcoal, Weber Long Lasting Premium Briquettes, Cadac Gas Cartridges, Big K Real Lumpwood Barbecue Charcoal, Big Green Egg Natural Fire Starters, Weber Lighter Blocks, Weber Lighter Cubes and Wood Pellets.
The Big Green Egg Pizza Baking Supplies Company in Limerick provide the ultimate pizza cooking experience and will exceed all of your expectations for culinary perfection.
As Limerick's leading supplier of Pizza Oven Accessories A Room Outside guarantees that The Big Green Egg is the best choice for cooking bread, pizza, casseroles, cobblers and pies and can do so better than your kitchen oven … you may never cook indoors again!
The pizza accessories provided by A Room Outside in Limerick include Baking Stones, Pizza Dough Rolling Mats, Aluminium Pizza Peels, Pizza Cutters, Pizza Servers and Stone Scrubbing Brushes,