Piltown Driving Range is a long established Golf Driving Range near Balbriggan which provides a wide range of golf driving practicing facilities in their all-weather golf driving range close to Balbriggan.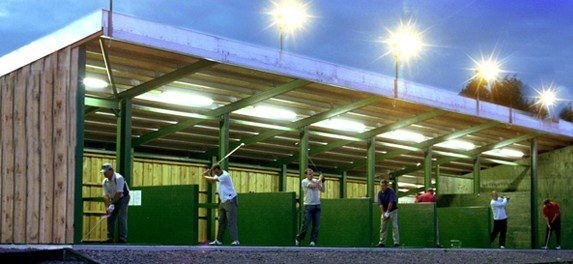 As a purposely-designed golf driving range located less than a 10 minute drive from Balbriggan, driving areas at Piltown Driving Range are under cover, distance markings on golf ball landing areas are well lit, and with modern driving range practice mats Piltown Driving Range is open all year round.
Balbriggan's Golf driving range's golfing services include golf practice facilities, floodlit golf driving range, landscaped driving range, driving range mats and regripping and reshafting services for golf clubs.
This Balbriggan driving range provide lessons for players of all golfing levels.
Golf instructors are available to coach all levels of golfers, beginner golfers are welcomed, Piltown Driving Range is ideal for practising all golf club and golf irons swings, and group golf lessons can be arranged at times to suit individual requirements.
Pilltown Driving Range near Balbriggan provide golf lessons for all levels of golfers including one to one golfing coach, player profiling, beginner golfing lessons, group golfing lessons, individual lessons, or group tuition, improve golfing handicap, beginner's golf, golf advice and golf coaching services, professional analysis and instruction to improve golfing ability.
Gift vouchers are available from this Driving Range beside Balbriggan, making it the ideal gift for any golfing enthusiast.

Balbriggan's driving Range provide golfing gift vouchers for any special occasion for friends, family, work colleagues and clients.
For more information on Driving Range Balbriggan, call 086 876 4655.