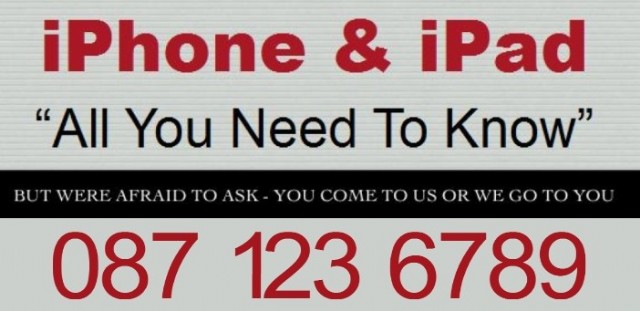 Want to know how to set up email accounts or do you want to learn how to use an iPhone/iPad/iMac fully? Then iPhone learning Drogheda is the place to call. iPhone learning Drogheda has been in the iPhone learning businesses for many years and has many clients that are now totally competent in using iPhones/iPads and Macs
Visit our new website at www.businesstechhelp.net
With our new business launched we can off Website help, be it a brand new website you are looking for or you may have an old one that just isn't working. We offer complete website help for samll businesses in Co Louth, Co Meath and North County Dublin. We now also provide start up help with your new Mac, just bought a new Mac and looking to set it up properly, syncing it with all your other Apple devices.
iPhone learning Drogheda provide all the answers. iPhone Training that will have you using your iPhone to its full potential. If you are using your iPhone/iPad for business then iPhone learning Drogheda will show how you can promote your business by using your iPhone.
iPhone learning Drogheda training program will get you to understand your iPhone fully, work with your iPhone, use your iPhone and get the most out of it. iPhone learning Drogheda will teach you how to set up your email accounts, how to email photos, how to set a daily alarm on your iPhone, how to download apps, 40-50 percent of iPhone capabilities are not used simply because of the lack of iPhone training.
iPads are a great tool for any business if you use it correctly . By having your sales people or managers trained in how to use their iPads s properly from the beginning you will keep everything synced and backed up across all the devices. iPad training is available in the North East and North Country Dublin.
iPad training Dundalk, iPad training Drogheda, iPad training Balbriggan, iPad training Navan and iPad training Ardee, iPhone & iPad training all over the North East.
The importance of using Social Media in marketing is growing daily. The phrases "see us on FaceBook' 'Follow us on Twitter" "See our video on YouTube" etc etc, is mentioned on all radio programs you listen to. Most companies nowadays are just trying to stay afloat and spending time on Social Media is way down the list. iPad learning Dundalk will show how a business you can create an effective social media strategy. iPad learning Drogheda courses will highlight the advantages of a proper Social Media campaign and iPad learning Drogheda will show you how you can use different Social Media apps to help your business.
Social Media has to be utilized in an integrated way while capitalizing on the unique benefits of each medium. iPad learning courses Drogheda will cover all aspects of FaceBook, Twitter, Text Messaging, Emailing, YouTube, and the new phenomenon that are QR codes, Linkedin, Yelp and the myriad of other Social Media apps out there to help your business.
We have just launched our new website aimed at small businesses, visit www.businesstechhelp.net for full details. We help in integrate Social Media & Cloud Storage into your business.
iPhone learning Drogheda are specialists in Apple devices and are experts when it comes to you getting the most out of iPhone or iPad also Mac desktop and the OSX operating system.
For more infromation on iPhone Training Drogheda Phone 087 1236789