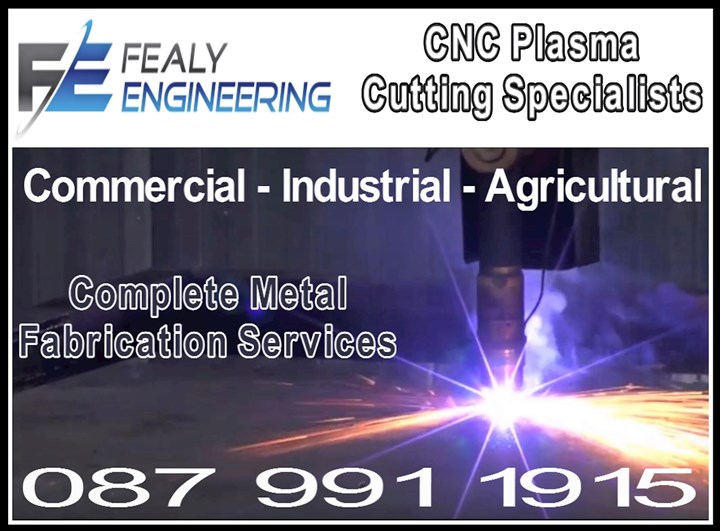 Fealy Engineering are metal fabrication specialists in Dundalk, County Louth, who provide a full range of metal fabrication services in their purpose-built steel fabrication workshop in Dundalk, County Louth.
As metal fabricators in Louth, Fealy's Engineering workshop is equipped with state-of-the-art metal fabrication tools and machines, with a team of highly skilled qualified metal fabricators all metal fabricating projects are undertaken.
The metal fabricating in Louth provided Fealy Engineering includes; CNC plasma cutting, MIG welding, TIG welding, ARC welding, shearing metal, metal folding, drilling metal and all fabricating services.
Cutting Hardox steel by plasma in Louth is a specialty of Fealy Engineering.
With the latest CNC plasma cutting equipment, Martin Fealy, proprietor of Fealy Engineering, has over 30 years' experience in steel fabrication, is cognizant to the requirements of industries requiring plasma cutting and undertakes all plasma cutting projects in their CNC plasma cutting centre in County Louth.
The plasma cutting in Louth carried out by Fealy Engineering includes; Hardox steel cutting, steel profile cutting, carbon steel cutting, abrasion-resistant plate cutting, wear-resistant steel plate cutting, thorough-hardened steel cutting and AR plate cutting.
Contract plasma cutting for steel fabricators and all industries is carried out Fealy Engineering in Dundalk, County Louth.
Using the HyPerformance HPR130XD | Hypertherm plasma cutter, CAD drawing, allow for multiple pieces from wear resistant steel plate, to be cut to exact specifications, Martin can design and advise on all plasma cutting projects, plasma cutting for all industries is provided and discounts on ongoing plasma cutting projects are available.
Plasma cutting is provided to all sectors by Fealy Engineering in Louth including plasma cutting for; stone crushing equipment, quarrying, mining equipment, bulldozers, digger buckets, industrial plants, cement production, agricultural machinery, construction machinery, earth moving machinery, earth moving equipment, and all plasma cutting requirements.
For more information on plasma cutting in Louth phone 087 991 1915