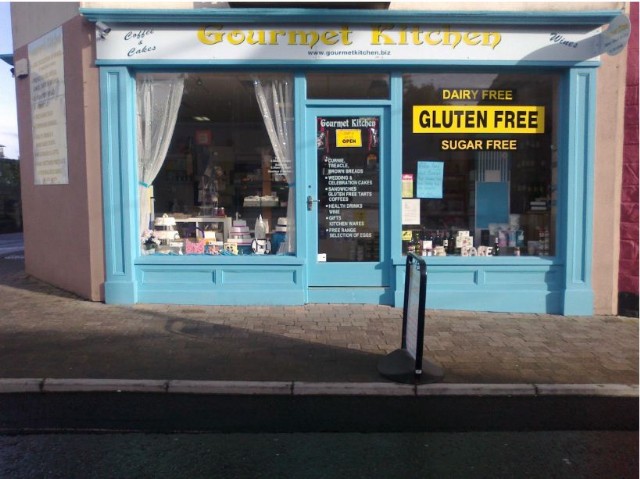 Gourmet kitchen is a bakery in Mayo specialising in giving you delicious home baked bread and home baked confectionary form its bakery in Ballina County Mayo. Gourmet kitchen opened its doors on 8th of July 2011 and combines of both a Baker and a Wine & Gift Shop.
Gourmet kitchen stock a large range of Gluten Free Foods, Wheat Free Foods, Sugar Free Foods, Dairy Free Foods and Yeast Free Foods.
Gourmet kitchen specialise in baking a range of NO added Sugar/Salt Wheat breads in their Ballina Bakery. All of Gourmet kitchen NO added Sugar/Salt Wheat baked breads are available in their Ballina bakery. Gourmet kitchen breads include,
Brown soda bread, Plain White soda bread, Fruit soda bread, Treacle Bread, Apple Tarts, Cakes and Tea bracks.
Gourmet kitchen stock a range of Gluten-Free Breads and Gluten Free Confectionary. Gourmet kitchen gluten free breads and Gluten Free cakes include,
Gluten Free Bread, Gluten Free Apple Tart, Gluten Free Rhubarb Tarts, Gluten Free Cupcakes and Gluten Free Teabracks.
Cake is often the dessert of choice for meals at ceremonial occasions, Gourmet Kitchen are renowned for their creativity in Cake-making when creating cakes for all the special occasions traditionally associated with cakes. Gourmet Kitchen cake range includes,
Wedding cakes, Birthday cakes, Christening cakes, Retirement cakes, Anniversary cakes, Easter cakes, Fruit Cakes, Sponge Cakes and Fairy cakes.
Novelty Cakes. Gourmet Kitchen take great care in providing you with Novelty Birthday cakes. We create novelty cakes in all shapes and sizes. Gourmet Kitchen novelty cakes include,
Wedding Novelty cakes, Birthday Novelty cakes, Christening Novelty cakes, Retirement Novelty cakes, Anniversary Novelty cakes, Easter Novelty cakes, Fruit Novelty Cakes and Sponge Novelty Cakes.
Wines and Gifts. Gourmet Kitchen have a wide range of novelty signs, candles, incence & holders, picture frames, scarves, handmade Jewellery & cards, Paintings & sketches by local artists.
WINES-- Gourmet Kitchen have wines from all around the world. Organic wines that are gluten-free too.
So if you're looking for a bakery in Mayo then our Bakery in Ballina should be your first choice. Why not call us and we can talk about any queries you may have regarding your Bakery needs.
Telephone: 087 9291580