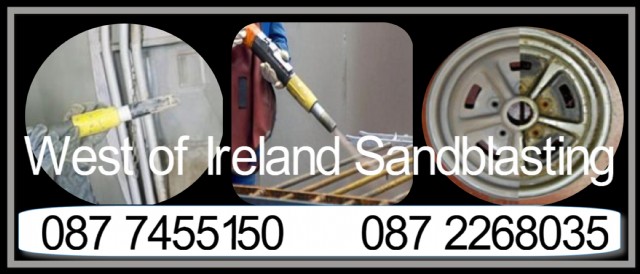 Sand Blasting Mayo are provides a Sand Blasting cleaning service in the West of Ireland. Sand Blasting Mayo is specialist in sandblasting and they clean virtually any surface that requires cleaning in The West of Ireland.
Sand Blasting is one of the best ways to clean metal parts and Sand Blasting is very effective in cleaning an old building in fact Sand Blasting is probably one of the most underused cleaning methods in Ireland.
Sand Blasting Mayo sandblasting services delivers quality results every time and sandblasting prices can be less expensive than you think.
Sandblasting Mayo offer a full Sandblasting, Shotblasting, Mediablasting service. For cleaning Masonery or cleaning brickwork and especially when cleaning stonework Shotblasting is the most effective cleaning method and the cost effective way to clean stonework.
If you need graffiti removal or want to remove paint, corrosion or concrete from steelwork then Mayo Sand Blasting are the sandblasters to call.
Mediablasting in Mayo is the ideal solution for cleaning alloy wheels, Cleaning car panels, Cleaning trailers, tanks, Cleaning trucks and Cleaning truck bodies.
If you going to restore vintage cars or restore vintage motorbikes then Shot blasting cleaning will give you the perfect finish for spraying.
Agricultural equipment and boats will benefit from shotblasting as it will give the cleanest possible surface for spraying.
Sandblasting Mayo has a mobile Sandblasting service in Mayo and their mobile sandblasting service is throughout Connaught.
Sandblasting Connaught sandblasting service is ideal for cleaning Headstones, Cleaning Property, Cleaning buildings, Cleaning fireplaces, Removing graffiti and for cleaning items that you can't bring to our Sandblasting factory.
No Sandblasting job too big or too small. Sandblasting Mayo has the keenest rates in Shotblasting with a prompt and professional sandblasting service.
Contact Noel on 087 7455150 087 7455150 or Pat on 087 2268035 087 2268035