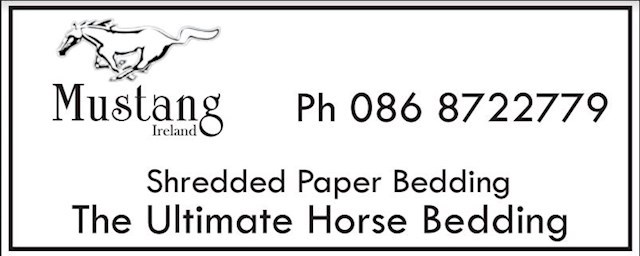 Mustang Ireland are a Meath Shredded Paper Bedding manufacturer that provide animal shredded paper bedding throughout Ireland.
Animal shredded paper bedding is virtually dust free and is the most comfortable bedding for all type of animals including horses, dogs, pigs and all domestic pets.
Free delivery of shredded animal paper bedding in Meath, Kildare, Dublin, Cavan, Wicklow and Wexford is available from Mustang Ireland on many orders and delivery of animal paper bedding can be arranged throughout Ireland.
Providing shredded bedding for horses in Kildare, Dublin and Meath is a speciality of shredded Irish paper bedding provider Mustang Ireland.
Equine shredded paper bedding is ideal for all breeds of horses and the paper bedding manufactured by Mustang Ireland is ideal horse bedding for horses with respiratory problems.
Using shredded paper bedding for horses can be beneficial in treating horses with respiratory problems including; common equine respiratory disease, equine influenza, strangles, heaves, RAO and horse coughing.
The equine shredded paper bedding manufactured by Mustang Ireland is the ideal horse bedding for any of the following including; horse stables, foaling stables, stallion boxes, racing stables, horse riding schools, equine centres and equestrian centres.
Providing bedding for dog kennels in Dublin, Kildare and Meath forms a large part of the Irish shredded paper bedding services provided by Mustang Ireland.
Shredded Paper bedding is ideal dog bedding, being very soft with excellent cushion and insulation thus encouraging dogs to rest.
Canine paper bedding comes in heat-sealed 20kg bales which is very easy to store and is ideal bedding for any of the following including; dog kennels, dog boarding kennels, dog training centres, dog homes, animal rescue centres and all canines.
Using shredded paper as bedding for pigs in the farrowing house makes excellent bedding material for Sows when farrowing.
Shredded paper pig bedding has great absorbency properties and shredded paper pig bedding is very hygienic thus helping in preventing contagious diseases in pigs.
Shredded paper pig bedding can be delivered free to Dublin, Meath and Kildare by Mustang Ireland
Using shredded paper as pig bedding can help in elimination and treatment of the following pig diseases including; E. coli, Coccidiosis, Lameness, Swine dysentery, Internal parasites, Farrowing sickness, mastitis in pigs, Lameness in pigs, Piglet scours and Piglet anaemia.
Shredded paper bedding is very easy to handle, comes in 20 kg Bales and is wrapped in short term weatherproof plastic.
Shredded paper bedding is biodegradable and the wet bedding makes ideal compost when spread on fields as fertiliser.
The benefits of using shredded paper bedding include the following; less bedding storage, easier mucking out, easier cleaning dog kennels, cheaper dog bedding, cheaper pig bedding and cheaper horse bedding.
For more information on shredded paper bedding phone Fergal - 086 872 2779.