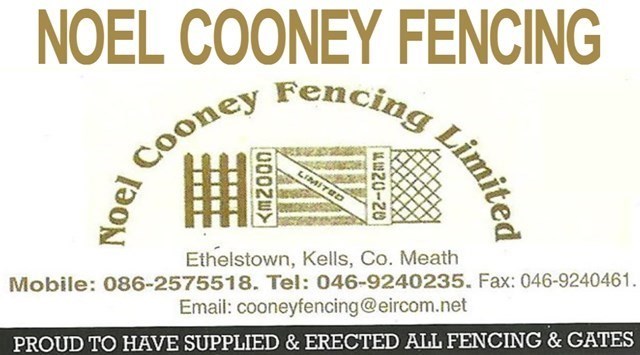 Noel Cooney Fencing Ltd is a long established fencing contractor in County Meath, who has been supplying and erecting fencing in Meath since 1980.
As a reliable Meath fencing contractor, Noel is fully insured, fully compliant with all fencing regulations, local authority approved, VAT registered, has over 40 years' experience in all aspects of fencing, and can undertake all fencing projects in Meath.
The fencing services by Noel Cooney Fencing are provided in the following areas: Navan, Athboy, Bective, Bellewstown, Kells, Kinnegad, Trim, Julianstown, Laytown, Clonee, Ballivor, Clonalvy, Gormanstown, Dunsany, Duleek, Collierstown, Moat, Moynalty, Slane, Nobber, Enfield, and Batterstown.
Agricultural fencing in Meath is carried out by Noel Cooney Fencing Ltd.
Fully equipped with the latest agricultural fencing equipment, Noel is highly knowledgable on the complete process of installing agricultural fencing, and agricultrual fencing in Meath can be arranged at short notice.
The agricultural fencing in Meath provided by Noel Cooney Fencing includes: stock rail fencing, electric fencing, sheep wire, horse paddocks, livestock fencing, poultry fencing, sheep paddocks, and ranch fencing.
Industrial fencing and security fencing is supplied by Noel Cooney Fencing Ltd.
Familiar with the requirements of commercial fencing, Noel will advise on the most suitable type of industrial fencing for particular premises, security fencing is erected, and free estimates on industrial fencing in Meath are available.
The industrial fencing in Meath provided by Noel includes: security fencing, industrial fencing, chain-link fences, security railings, and pallistrade security fencing.
Residential fencing in Meath is provided by Noel Cooney Fencing Ltd.
Using mini diggers on rubber tracks when fencing mature landscapes, all residential fencing is installed without damaging lawns and driveways, and Noel can arrange for residential fencing in Meath to be fitted at times to suit individual requirements.
The residential fencing in Meath provided by Noel Cooney includes fencing of: driveways, gardens, roadside, lawns, housing estates, railings, mesh fencing, and dog runs.
For more information on fencing in Meath, call 086 257 5518 - 046 924 0235