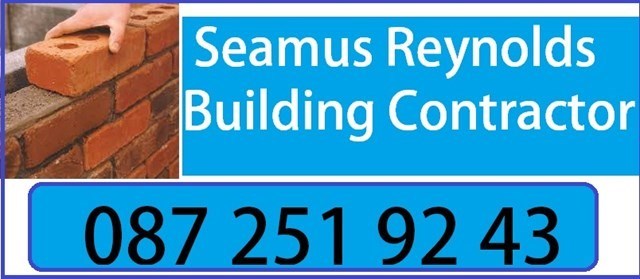 Seamus Reynolds Building Contractor and House Extensions Meath is a house extension builder, who specialises in building home extensions and new builds in Meath, Westmeath, and surrounding areas.
As a fully qualified builder in Meath, Seamus Reynolds is highly trained in all aspects of building work, fully certified, has many years' experience in the building trade, and undertakes extension building projects in Meath and surrounding areas for the residential and commerical sectors.
The house extensions in Meath built by Seamus Reynolds are available in areas including: Kildalkey, Moate, Kilbeggan, Slane, Navan, Kinnegad, Coole, and Castletown.
Building house extensions in Meath is a speciality of Seamus Reynolds.
Fully insured to complete all house extensions, Seamus undertakes large and small house extension building projects in Meath, extensions can be built on all types of houses, sunrooms and conservatories are constructed, house extensions in Meath are built with minimal disruption.
The house extension services in Meath provided by Seamus Reynolds includes: house extension design, new builds, building new houses, home extensions, home improvements, garage conversions, attic conversions, creating open plan homes, single storey extensions, 2 storey extensions, home improvements, house renovations, building a playroom, double extensions, building an office, building an extra bedroom, sunroom extension, building a conservatory, small extensions, and large extensions.
New builds in Meath are constructed by Seamus Reynolds.
Highly experienced in constructing new builds, Seamus is highly skilled in all aspects of erecting new builds, all construction work on new house building projects is taken on, and all types of new property building services in Meath are provided.
The new builds in Meath built by Seamus Reynolds include: large residential construction, two storey houses, bungalows, dormer bungalows, cottages, three story houses, and small house builds.
All queries on house extension building work in Meath can be answered by Seamus Reynolds.
Highly knowledgeable on the entire process of building home extensions, Seamus provides advice on the planning permission process, is very familiar with the best type of extension for individual properties, and can answer common questions relating to house extension construction.
The frequently asked questions on house extension building in Meath that Seamus Reynolds can answer include: Do I need planning permission for an extension in my back garden? What are the building regulations for extensions? How much value will an extension add to my property? How long does building an extension take? Who can design an extension in Meath? Who is the best builder in Meath? How much does building an extension cost? What materials are best for sunrooms/conservatories?
For more information on house extension builders in Meath, call 046 943 5308 - 087 251 9243