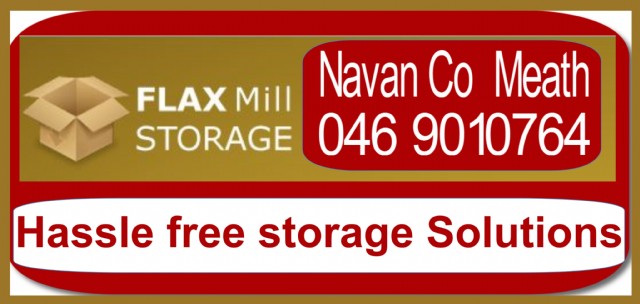 Storage Meath is the ideal storage solution for any goods that require storage in County Meath.
Whether you're looking for temporary storage in Meath or more long term storage in Meath then Storage Meath is the storage company that will provide you with the ideal storage solution.
Meath storage units are suitable for storing a wide range of products and our storage units are designed pacifically to suite your storing needs.
Our storing units in Meath range in Sizes from 25sq ft - 500sq ft and are suitable for Commercial storage and household storage.
Our Affordable Storage facility is based along the River Boyne and a weekly storage service or a monthly storage service is available from Meath storage. Meath storage provides storage facilities for house storage and for business storeage, and our storage system is aimed at providing you with a Hassle Free Self-Storage Solution.
Are you worried about safe storage in Meath?
Meath self-storage provides an offsite Archive and Document storage facilty which is safe and secure. Do you need additional space?
Is your house just not quite big enough to store the stock for Business? If the answer to this question is yes then Storage Meath are the people to talk to.
Transporting and loading your stored goods with Storage Meath, Are you worried about your storage loading and your storage unloading? There is no need to worry about your storage loading and your storage unloading we provide you with the required trolleys for you loading needs.
Meath storage is a great way to free up your valuable office space and reduce time wasted searching for documents?
Storage Meath supply and deliver archive boxes to your work place and we collect them and store them for you and we can retrieve them and deliver them to your place of business as requested
Do you need to free up your office space and still have the flexibility to access your documents at any time? or are you temporary moving home and need storage space for household goods?
Call Storage Meath and have all your storage problems solved.
What goods can be stored in Meath storage? Meath storage can store almost anything from beds to files provided it's not perishable flammable or illegal. Storage Meath is ideal all types of storage including, Dry storage, Household storage, Commercial storage, File storage, Document storage, Equipment storage, Hospital storage, School storage, Government storage, Warehouse storage, Shop storage, Businesses storage, Estate storage, Bankruptcy storage and Electrical Storage,
For more information on Storage Meath call us on 046 9010764