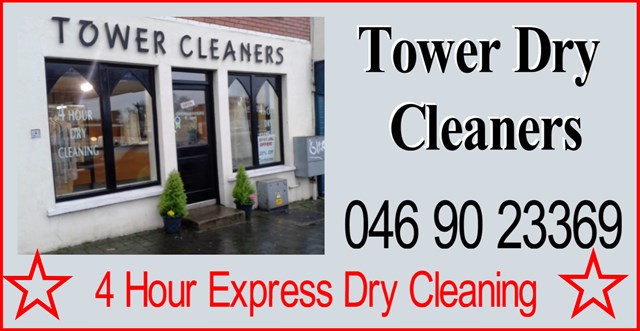 With over 40 years in the dry cleaning business, Tower Dry Cleaners provide a dry cleaning service throughout Navan and County Meath.
With all dry cleaning carried out on their premises and no garments ever sent to third party cleaners, this Navan Dry Cleaner is fully licensed and insured in all aspects of dry cleaning providing you with a thorough, professional cleaning service.
The dry cleaning services provided by this Dry Cleaning Company in Navan include wedding dress dry cleaning, curtains dry cleaning and emergency dry cleaning.
Providing a comprehensive wedding dress dry cleaning service in Navan is a service provided by Tower Dry Cleaners.
The staff at this Meath dry cleaning company all have at least 10 years dry cleaning experience and are fully trained and qualified for all your dry cleaning needs with an excellent speed of service at a cost efficient price.
There are a wide range of dry cleaning services available with the Meath dry cleaner including wedding dress repair, bridesmaids' dresses, tuxedos, all gowns, suits, jackets, skirts, coats and communion dresses.
Curtain Dry cleaning in Navan is a speciality of Tower Dry Cleaners.
Using the most modern dry cleaning machines, this Meath dry cleaner is fully equipped to deal with the most delicate fabrics and toughest stains with all dry cleaning being carried out to the highest possible standard.
The upholstery dry cleaning services available at this Navan dry cleaners include cushion dry cleaning, sofa covers, blankets, duvets, quilts and bedspreads.
An emergency dry cleaning service is available throughout Meath with Tower Dry Cleaners.
As a Meath dry cleaner, Tower dry cleaning provides a 4 hour express cleaning ensuring you are provided witha very short wait for your dry cleaning.
The emergency dry cleaning services provided by this Emergency dry cleaner in Meath include quick dry cleaning, on the day dry cleaning, emergency dress repair and express dry cleaning.
For Further information please call (046) 9023369.