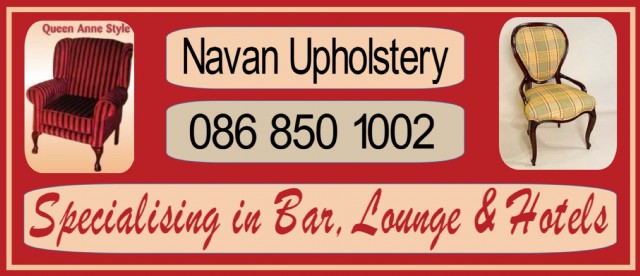 Navan upholstery is a long established upholstery service and Navan upholstery have been upholstering Sofas and upholstering armchairs in Dublin and Meath for many years. Based in Navan county Meath Navan upholstery has over 25 years' experience in the upholstering business.
Navan upholstery provides a furniture upholstery collection service and once your furniture upholstery is completed their furniture upholstery delivery service will deliver your new upholstered furniture direct your home. Navan upholstery services include, Armchair upholstery, Sofa upholstery, Lounge bar upholstery, 3 Piece Suites upholstery, School upholstery, Hospital upholstery, Mobile Home upholstery, Camper upholstery, Hotel upholstery and industrial upholstery.
Upholstery Navan provide a Commercial Furniture Upholstery service and are very experienced upholsters in Bar Furniture Upholstery, Lounge Furniture Upholstery and Hotel Furniture Upholstery School Furniture Upholstery.
Navan upholstery provides an onsite upholstery service and they have all the upholstery equipment required to restore commercial furniture and leave your furniture like new. Navan upholstery service is available in the following areas including, Upholstery Meath, Upholstery Louth, Upholstery Cavan, Upholstery Dublin, Upholstery Navan, Upholstery Kells, Upholstery Drogheda, Upholstery Dundalk, Upholstery Ashbourne, Upholstery Dunshaughlin and Dunshaughlin finglas.
Navan Upholstery provides a Home Furniture Upholstery service and is available to upholster any household furniture that requires furniture upholstering. Reupholstering furniture is in many cases a better option than buying new furniture.
When you are having your furniture upholstered you can choose from many upholstery colours and many upholstery designs so your newly designed upholstered furniture will become not only a new furniture piece but it will be part of the room itself.
Upholstery Navan provide a Mobile Home Upholstery service and Camper Upholstery service. When you get your Mobile home upholstered it will completely enhance the mobile home looks and your mobile home will provide you with much more comfort whilst also adding to its value.
If you're looking for mobile home Upholstery or Camper Upholstery then Upholstery Navan are the upholsters to talk to specialising in mobile home Upholstery and Camper Upholstery home are some of the many Upholstery services provided by Navan Upholstery.
Navan Upholstery provides a New Suites made to measure servise. Wheather your looking at seating for a pub or seating for your home Navan Upholstery New Suites made to measure service may be just what you are looking for.
Navan Upholstery have many years of experence in the furniture made to measure industry and they are the best people to talk to if your are looking to alternative seating rather than factory made furninture.
Navan Upholstery provides a Leather Sofa Recoverd and Leather Sofa repair service. Getting your Leather Sofa Recoverd can be a better option than buying new leather sofas.
Recovered leather sofas look like new sofas but in many cases recovered leather sofas will outlast new sofas and in most cases recovered leather sofas are more comfortable than new sofas.
For more information on Navan upholstery, upholstery services phone Tony on 086 850 1002