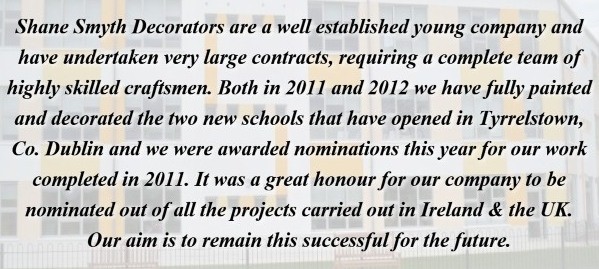 Painting & Decorating Navan, deliver very high standards in the Decorating Industry as Commercial Decorators, Industrial Decorators & Domestic Decorators working in Leinster and throught Ireland.
Shane Smyth Decorators can offer a complete professional decorating contractor service in painting in navan, wallpapering in navan, varnishing floor in navan, sanding floors in navan. Both exterior decorating and interior decorating work all carried out. Whether it's decorating a new build or refurbishing your home you will not get a better decorating service.
Painting & Decorating Navan provide Commercial Decorating & Industrial Decorating in Dublin and throughout Ireland.
With our team of highly skilled decorating craftsmen Shane Smyth Decorators can and have undertaken very large decorating contracts in Dublin and throughout Ireland. Some of the commercial decorating contracts Shane Smyth Decorators have completed include, decorating schools, decorating nursing homes, decorating churches, decorating offices and Shane Smyth Decorators have had decorating contracts in Dublin Zoo.

Painting & Decorating Navan provide a fully professional Domestic Decorating services in both Interior Decorating & Exterior Decorating.
Need your House painted in Meath? Painting your bedroom painted in Louth? Wallpapering a sitting room in Dublin? Shane Smyth Decorators are a very experienced decorating company who carry out all types of domestic decorating throughout Leinster including, Painting houses, painting rooms, wallpapering rooms, painting stairs, varnishing stairs, varnishing floors, floor sanding etc.
Painting & Decorating Navan cover the whole of Ireland with most of our decorating work carried out in the Leinster area.
Call Shane Smyth Decorators on

086 3016561

086 3016561

for a Decorator in Louth, Decorator in Meath, Decorator in Dublin, Painter in Louth Painter in Meath, Painter in Dublin – Painter & Decorator anywhere in Ireland!