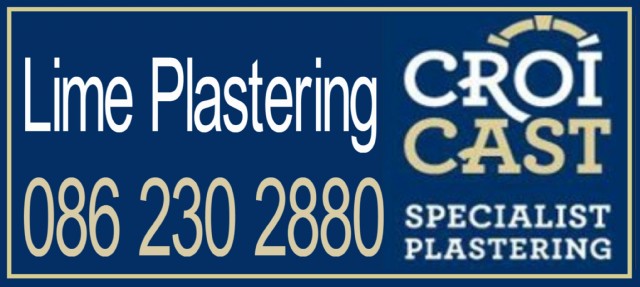 Lime plastering acts like a sponge on the walls of old buildings by absorbing water when raining and allowing the moisture to evaporate when the weather is dry thus preventing the moisture to penetrate in to the wall.
Many older buildings would have been Lime Plastered when they were build and as these Lime Plastered Buildings get older New Lime Plastering is required as part of their House Lime Plastering Maintenance. Croicast Lime Plastering services are available in the following areas including, Lime Plastering Meath, Lime Plastering Louth, Lime Plastering Dublin, Lime Plastering Kildare, Lime Plastering Cavan and Lime Plastering Westmeath.
Lime Plastering is a very different type of plastering than normal sand and cement plastering and requires a different set of plastering skills and plastering knowledge to carry out Lime Plastering successfully. Jim Kerins of Croicast is a very experienced Lime Plasterer with a vast knowledge in working with older buildings that require lime plastering and lime rendering.
Croicast provide a restoration plastering service and a lime plastering service throughout the North East of Ireland and provides both a private lime plastering service and a commercial lime plastering service. Croicast Restoration Plastering services are available in the following areas including, Restoration Plastering Meath, Restoration Plastering Louth, Restoration Plastering Dublin, Restoration Plastering Kildare, Restoration Plastering Cavan and Restoration Plastering Westmeath.
Restoration Plastering is one of Croicast plastering specialities. Their Restoration Plastering work includes Restoration Plastering repairs to damaged buildings, Restoration Plastering walls and Restoration Plastering ceilings. Broken mouldings repairs, Broken medallions repairs are all part of the Restoration Plastering services offered by Croicast.
Lime plaster mixes. The importance of Lime Plaster Mixes is very important and must have the right ingredients to suite the type of building surface been Lime Plastered. Lime plastering ceilings will last for years and years however not using the right lime plaster mix can result in ceiling cracks.
Croicast are very experienced in Lime Rendering of walls in old buildings and Lime rendering ceilings in old buildings. Ensuring that the Lime render is applied at correct and equal pressure is an important fact when lime rendering ensuring the best bond between the lime mortar and the wall or ceiling.
When applying lime plaster onto wooden laths enough pressure to force the lime plaster between the laths so that a good lime plaster bond takes place. Croicast Lime Rendering services are available in the following areas including, Lime Rendering Meath, Lime Rendering Louth, Lime Rendering Dublin, Lime Rendering Kildare, Lime Rendering Cavan and Lime Rendering Westmeath.
In the provision of County Council granting Planning Permission on older buildings Lime plastering can be one of the requirements in the granting the required Planning Permission.
As a provider of Lime Plastering and Restoration Plastering to Government Buildings and Local Authority bodies Croicast are recognised by all government bodies and County Councils as registered Lime Plasters and Restoration Plasters and they can provide certs showing all Lime Plastering and Restoration Plastering are up to government standards.
For more information on Lime Plastering, Restoration Plastering and Lime Rendering call Jim Kerins on 086 2302880