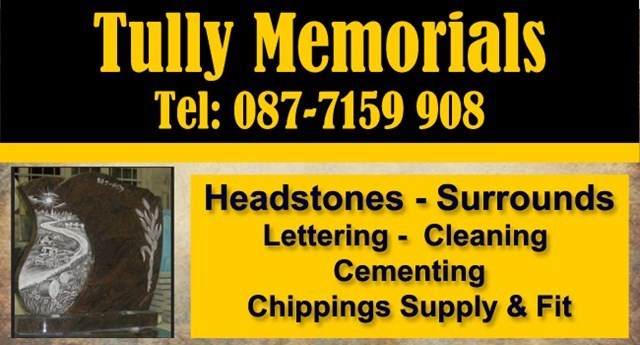 Tully Memorials are established headstone suppliers in Carrickmacross, County Monaghan, specialising in providing memorial plaques, grave surrounds, and headstones in Carrickmacross.
As Carrickmacross headstone and grave surrounds providers, Tully Memorials have many years' experience in supplying graveside accessories, can provide personalised memorial plaques, and have a portfolio of headstones and plaques in Carrickmacross available to view in their fully furnished memorial showroom.
The graveside memorials and headstones in Carrickmacrosss supplied by Tully Memorials is ideal for the following areas: Baileborough, Shercock, Kingscourt, Tallanstown, Drumlane, Broomfield, Readypenny, Ardee, Moynalty, Castleblayney, Nobber, Virginia, Tullycorbet, Stranooden, Newbliss, and Cootehill.
Headstone supply, restoration, and maintenance in Carrickmacross is a speciality of Tully Memorials.
Highly experienced in supplying headstones, Tully Memorials provide full guidance throughout the process of selecting a headstone for a grave, headstones can be supplied in a wide variety of materials, older headstones are restored, and quotes on headstone services in Carrickmacross are available.
The headstone supply, headstone restoration, and headstone maintenance in Carrickmacross provided by Tully Memorials includes: traditional headstones, granite headstones, limestone headstones, marble headstones, stone sculpted headstones, hand carved headsotnes, affordable headstones, and high quality headstones.
Grave surrounds in Carrickmacross are provided by Tully Memorials.
A vast range of materials and styles of grave surrounds are accomodated, grave kerbing is supplied, grave surrounds can be matched to complement headstone, all grave surrounds and accessories are completed to a professional standard, and Tully Memorials make grave surrounds in Carrickmacross to fit individual grave plot sizes.
The grave surrounds and grave accessories in Carrickmacross available from Tully Memorials includes: blue granite grave surrounds, grave surrounds with cladding, grey granite grave surrounds, standard black granite grave surrounds, square grave kerbing, square grave corner posts, grave cladding, round top grave kerbing, and grave kneelers.

Memorial plaques in Carrickmacross are available from Tully Memorials.
Personalised memorial plaques for graves are custom-made, granite and marble memorial plaques are available, verses or personalised inscriptions can be etched onto memorial plaques, images can be impressed upon memorial plaques, and Tully Memorials can supply memorial plaques in Carrickmacross in bespoke styles.
The memorial plaques in Carrickmacross available from Tully Memorials include: granite memorial plaques, marble memorial plaques, personalised memorial plaques, bespoke memorial plaques, portrait memorial plaques, memorial plaques for children, verse memorial plaques, ceramic memorial plaques, memorial prayer plaques, and memorial plaque for pets.
Graveside flower vases in Carrickmacross are supplied by Tully Memorials.
Large and small graveside flower vases are available, graveside vases can be provided in a variety of colours and designs, graveside flower vase steel containers are supplied in silver and gold, personal messages can be engraved on graveside vases, and Tully Memorials can provide graveside flower vases at short notice.
The graveside flower vases in Carrickmacross provided by Tully Memorials include: granite flower vase, marble flower vase, round flower vase, square flower vase, inscribed flower vase, sloped flower vase, bespoke flower vase, and coloured flower vase.
For more information on headstone and grave accessory suppliers in Carrickmacross, call 087 715 9908