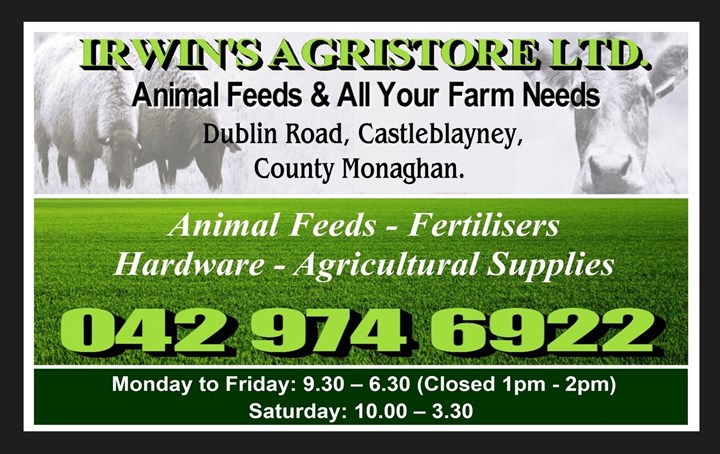 Irwins Agri Store Ltd are an agricultural supplier in Castleblayney, who specialise in stocking a complete range of animal feeds and agricultural supplies in their agricultural store in Castleblayney, County Monaghan.
As a local agricultural supplier in Castleblaney, Irwin's Agri Store Ltd have been established for many years and stock all types of animal feeds, farming products, fertilisers and hardware supplies at affordable prices.
The agricultural supplies in Castleblayney provided by Irwins Agri Store include; animal feeds, animal health supplies, fetilisers, hardware, garden equipment, work wear and work boots.
Animal feeds in Castleblayney are a speciality of Irwin's Agri Store Ltd.
Stocking a range of highly nutritional animal feeds, Irwins Agri Store provide feed for all types of animals in small amounts and in bulk, with special deals available on large quantities of animal feed purchased.
The animal feed in Castleblaney available from Irwins Agri Store Ltd includes; pet food, dog food, dog nuts, cattle feed, sheep feed, lamb feed, pig feed poultry feed, high nutritional feed and animal milk supplements.
Animal health supplies in Castleblayney are stocked by Irwins Agri Store Ltd.
Familiar with all types of common animal ailments and illnesses, Irwin's staff can advise on the health care products best suited to individual animal requirements.
The animal health products supplied by Irwins Agri Store Ltd include; cattle health supplies, sheep health supplies, equine health supplies, pig health supplies, poultry health supplies, worming doses, animal vaccines, sheep dip, fly control, pest control, calving products, lambing products and marking fluids.
Hardware in Castleblayney is supplied by Irwins Agri Store Ltd.
High quality hardware from leading hardware manufacturers are available in store and Irwins Agri Stores can source all types of hardware equipment and tools if required.
The hardware in Castleblayney provided by Irwins Agri Store Ltd includes; agricultural tools, garden equipment, electrical fencing, fencing materials, fence posts, wire, staples, bolts, nails, gates, livestock handling equipment, animal feeding equipment, poultry drinkers, poultry feeders, poultry hatching equipment, poultry housing, shearing equipment, water tipping troughs and cattle troughs.
Irwins Agri Store Ltd stocks work boots in Castleblayney.
Irwins Agri Store stock a range of durable and hardwearing work boots, in a variety of sizes and styles, ideal for all types of agricultural and construction environments.
The work footwear in Castleblayney available from Irwins Agri Store Ltd include; work boots, safety boots, steel toe boots, farming boots, construction boots, builders boots and wellies.
For more information on agricultural supplies in Castleblayney phone: 042 974 6922