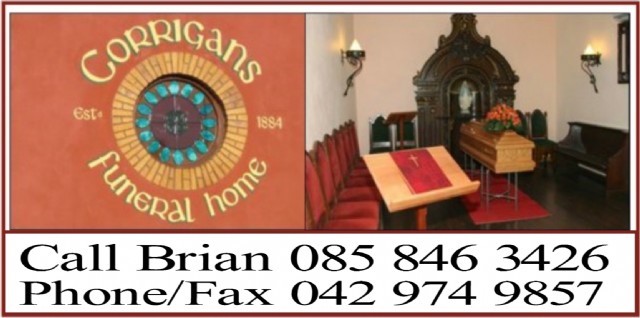 Corrigans Funeral directors Castleblayney established 1884 providing a professional funeral and cremation service in the Castleblayney and Monaghan areas.
Corrigans undertakers is the fourth generation family run business who pride themselves on how they run their business in a dignified understanding and caring manner.
For well over 100 years Corrigans Funeral directors have had the privilege of working with bereaved families throughout Monaghan. Whilst Corrigans Funeral home is based in Castleblayney they also cover the surrounding areas including, Ballybay, Oram, Clontribret, Lisdooan, Laragh, Donaghamoyne, Broomfield, Annyalla and Carrickmacross.
Corrigans Funeral Home Castleblayney are members of the Irish Association Of Funeral Directors (IAFD) and will take care of all aspects of a loved one's funeral and all funerals are conducted with sensitivity and compassion and as stress free as possible for the family of the deceased.
Corrigans Funeral Home Castleblayneywill make all the funeral arrangements necessary, from grave purchasing, funeral music, funeral flowers, death notices, funeral car and offer a cost effective solution at all times.
Visit Corrigans own website now
http://www.corrigansfuneralhome.com/
With their many years experienced as funeral directors in Monaghan Corrigans Funeral Home will organise everything required to bury a loved one in a professional and caring manner. Their funeral service include, Preparation of the deceased, Coroner, Crematorium, Cemetery, Funeral car, Obtaining and completion of all deceased legal requirements, Supply of a hearse, and bearers from place of death to place of funeral service and immediately on to the cemetery. All aspects of a loved one's funeral will be taken care of including the organising of headstones, repatriation and everything needed for the funeral service, planning the funeral, floral tributes, ceremony music and repatriation services.
As funeral undertakers in Monaghan Corrigans Funeral Home Castleblayney offer a complete range of coffins, cremation urns and caskets to choose from at their purpose built coffin showrooms in Castleblayney.
With a large range of coffins, caskets and cremation urns to choose from, Corrigans Undertakers Castleblayney offer the best selection of traditional or alternative coffins in the Monaghan and surrounding areas at very affordable prices.
Visit Corrigans own website now
A complete list of Corrigans Funeral services include :
• Full Burial and Cremation Service
• Experienced, professional staff, available 24 hours a day
• Use of the Corrigans Kitchen private function area.
• Placing of Death Notices, in local and national newspapers and/or on the Internet.
• Pre-planning of Funerals in association with Golden Charter.
• Funeral Car and Hearse.
• Horse-drawn Carriage.
• Motorbike Hearse.
• Fresh and Silk Floral Tributes.
• Ceremony Music – Organist/Soloist.
• A complete range of coffins, caskets and cremation urns.
• Repatriation (to and from Ireland).
• Qualified and experienced embalmers.
• Organisation of Headstone/Grave Marker.
• Condolence Book/Books.
• After funeral care and advice. Grief Matters, Learning to Cope with Loss. www.griefjourney.com
• Civil Ceremony.
• Serving all denominations.
• Grave Maintenance can be carried out all year round by our experienced staff on request.
Pre-planned Funerals - The Golden Charter
There comes a time in everybody's life when they realise they won't always be around. Most are happy enough to know that their wishes will be carried out by family or friends, however, others prefer to remove as much of the burden as possible.
Corrigans Funeral Home in association with 'The Golden Charter' can offer you a range of pre-paid funeral plans. Please contact Brian Laide on +353 (0)85 846 3426 or email: info@corrigansfuneralhome.com for more information. Alternatively, call into our office for a brochure. www.goldencharter.co.uk
With their many years' experience as funeral directors in Monaghan Corrigans Funeral Home can answer any questions you may need to ask in relation to any query on undertaking.
Some of the questions that Corrigans Funeral Home often answer include, Who should be contacted first when arranging a funeral? Do I need a death certificate to complete the funeral arrangements? How do I obtain a death certificate? Do I have to contact the church? Can we have a funeral without the church being involved? Is it possible to delay the funeral? What is a Post Mortem/Autopsy? Can I object to a Post Mortem? Do I have to pay the Church, cemetery fees or organist? Is the coffin used in cremation? Will we have to pay for the funeral immediately and can we have the remains back to the house?
24 Hour Service. Please Telephone: Brian on 085 846 3426. Phone / Fax 042 974 9857.
Visit Corrigans own website now
Corrigans Kitchen Castleblayney provides a full catering service for all types of funeral gatherings in the Castleblayney, Monaghan and surrounding areas.
Corrigans Kitchen Castleblayney offer all types of funeral catering options for any funeral party in the Castleblayney area and at very affordable and discounted prices.
Corrigans Kitchen Castleblayney funeral food services include funeral catering, affordable funeral food, 3 course dinner for funerals and buffet food for funerals.
For Further information Ring Noel 087 975 9584 042 9740040