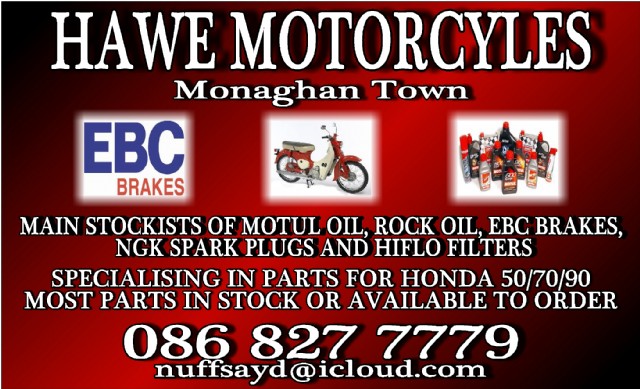 Hawe Motorcycles are based in Monaghan Town and stock a wide range of motorcycle parts and oils. If you're passionate about motorcycles Hawe Motorcycles have got you covered!
Hawe Motorcycles offer an extensive range of motorcycle parts and motorcycle oils and motorbike parts and motorbike oils. Hawe Motorcycles are main stockists of Motul Oil, EBC brakes, NGK Spark Plugs and Hiflo Filters.
Hawe Motorcycles specialise in Honda 50s/70s/90s and have most parts and oils in stock or available.
Hawe Motorcyles specialise in Honda 50s, Honda 70s and Honda 90s. Hawe Motorcyles stock a wide range of parts and oils for Honda 50s, parts and oils for Honda 70s and parts and oils for Honda 90s.
For Motorcyle parts and oils, and for specialised Honda 50/70/90 parts and oils, contact Hawe Motorcycles now on 086 827 7779
Hawe motorcycles also provide, reverse cameras, park assist cameras and car audio systems for all customers throughout Co. Monaghan.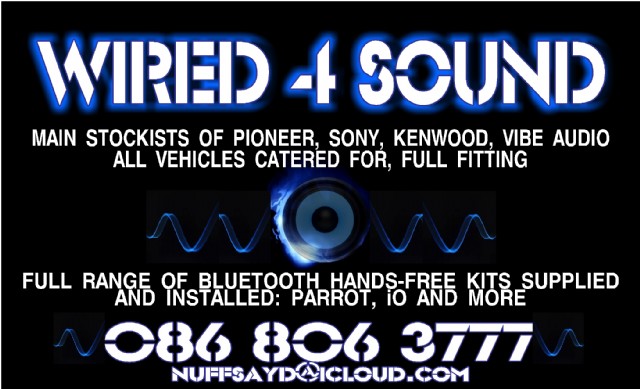 Wired4Sound have over 15 years of experience fitting and wiring all types of audio systems in all types of vehicles so no matter how you listen to your music, Wired4Sound has you covered.
Wired4Sound offer a full range of in-car audio solutions for all vehicles and are based in MonaghanTown. Wired4Sound are main stockists of Kenwood, Pioneer, Sony, Vibe Audio and more. Wired4Sound fit car CD players, car amps, car speakers, car iPod/USB/Aux input kits and more.
Wired4Sound stock and fit an extensive range of hands-free communication systems for your car, ensuring you get the safest option for using the phone while in your car.
Wired4Sound specialise in a large range of hands-free kits, including Parrot Bluetooth kits and iO Bluetooth systems. Wired4Sound have new car audio specials offers every week and fit Bluetooth kits for as little as €150.
For car audio systems, fitting, upgrades and hands-free solutions, contact Wired4Sound now on 086 806 3777