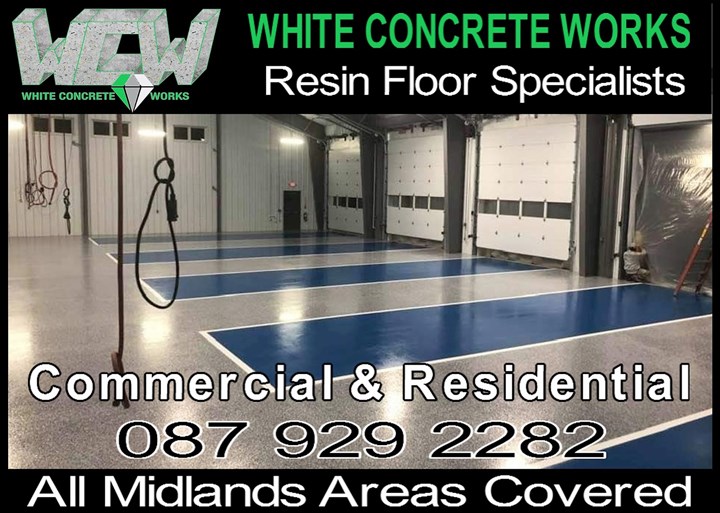 White Concrete Works are epoxy resin floor installers in County Offaly who specialise in supplying and laying epoxy floor coatings throughout Offaly.
Approved and certified to install all epoxy resin floors, Ian White, proprietor of White Concrete Works, has worked in the construction industry for over 12 years, and undertakes all epoxy resin floor installations, including all prep work in Offaly & surrounding counties.
The epoxy resin floor services in Offaly provided by White Concrete Works include; domestic resin floor installations, commercial resin floor installations, industrial resin floor installations and residential resin floor installations.
Installing epoxy resin flooring in commercial units in Offaly is a speciality of White Concrete Works.
Resin flooring is ideal for all commercial flooring, it is slip-resistant, fire-resistant, and heat-resistant. Ian installs heavy duty polyurethane screed flooring to all industries, all White Concrete Work's resin floor installers have safe passes and the required documentation to work on sites and free quotations on epoxy resin floor installations throughout Offaly are provided.
The commercial resin flooring in Offaly installed by White Concrete Works includes installing resin floors in; creches, warehousing, manufacturing units, engineering workplaces, garages, chemists, food processing units, commercial kitchens, factories, commercial kitchens, takeaways, hospitals, doctors' surgeries, vets and all commercial premises.
Domestic resin flooring installations in Offaly are carried out by White Concrete Works.
Resin flooring is available in a wide range of colours, with unlimited patterns, textures and designs to choose from, Ian can advise on the viability of laying resin floors on existing flooring and resin floor installations in Offaly can be arranged at short notice.
The domestic flooring in Offaly available from White Concrete Works includes installing; kitchen resin flooring, bathroom resin flooring, walk in shower resin flooring, wet room resin flooring and resin floors in properties.
For more information on resin flooring in Offaly phone 087 929 2282